Leah Hollingsworth hears the soloist play at People's Symphony Concerts, New York, on 13 December 2020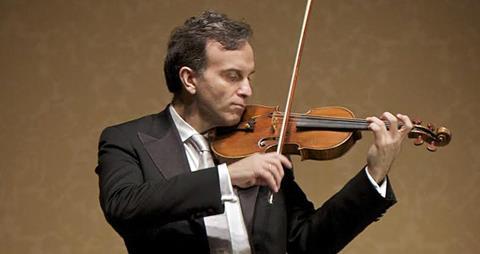 The People's Symphony presented Gil Shaham in its online series last December, and the broadcast included a wonderful Q&A with Shaham about the programme before the performance, as well as a discussion afterwards. Shaham opened with Bach's G minor Solo Sonata, and he performed cleanly, often choosing faster tempos that showcased his technical ability to maintain a clear sense of direction and musical phrase, despite difficult double-stops. The final presto was shimmering and brilliant.
Next was Isolation Rag by Massachusetts-based composer Scott Wheeler – a piece premiered during the pandemic. Shaham accurately described it as 'capturing the feeling of a violinist playing cheerfully at home but with the undertones of missing his or her colleagues on stage', and indeed the piece was quite joyful with jazzy dotted rhythms, sultry slides, spunky double-stops and a playful pizzicato section, but there was a certain underpinning of solemnity. Chicago Symphony violist Max Raimi's Anger Management followed, its theme a natural consequence of being a musician living with the pandemic. This short work is reminiscent of Ysaÿe in the double-stops and feel, and Shaham played with technical mastery, almost too cleanly to sound angry.
Hafiz's poem When the violin is a must-read, and was the inspiration for Reena Esmail's short piece for solo violin of the same name. Shaham's interpretation was haunting and utterly beautiful, the many false harmonics and glissandos shimmering into the air. Frequent use of a drone gave the work a distinctly Eastern feel and Shaham played with tremendous depth of emotion. Bach's E major Partita brought the programme to a joyful close – when all is said and done, there is still the music. Even playing to an empty hall, Shaham smiled at the end.
LEAH HOLLINGSWORTH