Tim Homfray hears a recital of Haydn and Beethoven at London's Wigmore Hall on 19 June 2022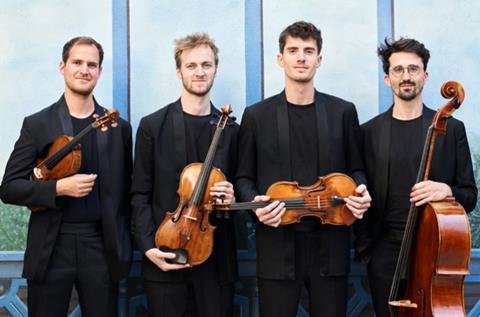 This was a mighty programme for a one-hour concert; not surprisingly, it overran by 15 minutes. First came Haydn's C major Quartet op.20 no.2, with passages of quiet mystery in the outer sections of the first movement and a splendidly passionate eruption in the development. Cellist Simon Iachemet and then first violinist Adrien Jurkovic were gently musing amongst the severe octave unisons of the second movement. After its floating opening, they brought out Haydn's quirky humour in the Menuetto and Trio, and displayed commendable clarity in the dense counterpoint of the fugal finale.
Beethoven's B flat Quartet op.130 followed, with the Grosse Fuge to finish. The players were variously fleet and weighty in the first movement, maintaining a firm narrative line through its many contrasts. Jurkovic skipped splendidly through the Presto, and the third-movement Andante was played with genteel 18th-century elegance, making for striking contrast in the music's sudden loud interruptions. After the graceful Alla danza tedesca, in which the players went easy on the hairpins, the Cavatina was a profound, flowing meditation, with much expressive use of white notes. Jurkovic presented the fugue subject of the Grosse Fuge like a topic for discussion, which the remaining members of the Agate took up with the contrapuntal skills they had shown in the Haydn. The Meno mosso section flowed calmly, while the Allegro molto had a driving momentum.
TIM HOMFRAY