Period instruments used to telling effect in late Beethoven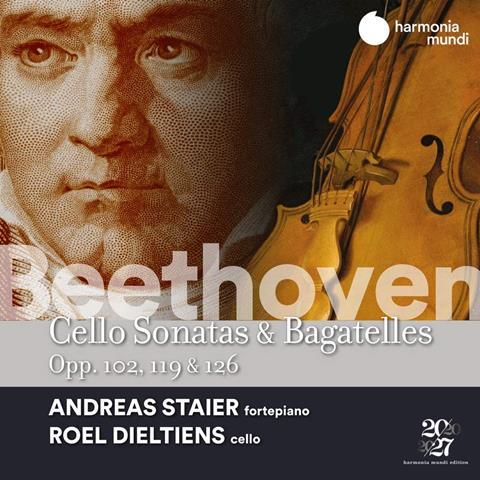 The Strad Issue: September 2022
Description; Period instruments used to telling effect in late Beethoven
Musicians: Roel Dieltiens (cello) Andreas Staier (fortepiano)
Works: Beethoven: Cello Sonatas op.102; Bagatelles: op.119, op.126
Catalogue number: HARMONIA MUNDI HMM 902429
By presenting Beethoven's last two cello sonatas alone, rather than as part of a cycle, Roel Dieltiens and Andreas Staier draw attention to their questing, transitory nature. Dating from 1815, they sit at the meeting point of the composer's middle and late styles, at a time when he was distilling and streamlining his language and seeking new modes of expression, free from the prevailing rhetoric of the accompanied sonata. Dieltiens and Staier emphasise the questing nature especially of the C major Sonata (no.4), taking a quizzical approach to its oblique progress.
The choice of instruments helps. Dieltiens's cello is a copy of a Stradivari, played with a bow modelled after John Dodd, and Staier plays a fortepiano based on an 1827 Graf, a piquant choice that comes into its own in the solo Bagatelles. In the sonatas the two sound worlds are brought closer together, their narrower amplitude (compared with modern instruments) enabling conversational equality – in the fugal section of the D major Sonata (no.5), for instance – without either ever becoming unduly dominant.
With less concern for tonal consistency across the range, the palette of colours is enhanced: hushed pianissimos from both instruments that make you hold your breath, and a panoply of cello voices ranging from gruffness to a truly singing cantabile. The microphones move in close enough to pick up some fingerboard and action noises but not so close as to limit the bloom around the two instruments. These are performances that make you listen with refreshed ears to these ever-fascinating works.
DAVID THREASHER