Bruce Hodges attends a performance of Shen Yiwen, Bruce Adolphe, Sid Richardson, George Perle and Joan Tower at New York's Merkin Concert Hall on 9 June 2022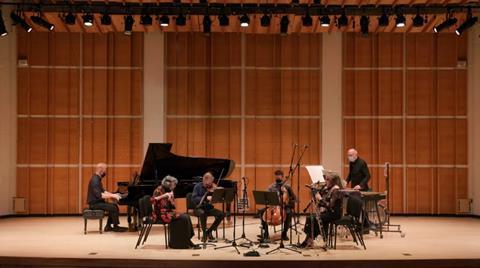 The Da Capo Chamber Players, an ensemble that celebrates its 50th anniversary this year, ended the season with works especially written for it. Its line-up of flute, clarinet, violin, cello and piano is inspired by Schoenberg's instrumentation for Pierrot lunaire, and the group's celebrated musicians include two string players with Juilliard pedigrees: violinist Curtis Macomber and cellist Christopher Gross.
In Shen Yiwen's Guo Shang: Hymn to the Fallen and Li Hun: Recessional (2008), the string duo echoed the piano's thumping lower registers with their own grinding textures, as Macomber floated a melodic line fashioned from traditional Chinese scales. Li Hun began with a flurry of string pizzicatos, joined by flute (Patricia Spencer) and clarinet (Marianne Gythfeldt) in a playful mood.
Since wind players can't play and vocalise simultaneously, the strings, piano (Steve Beck), and guest percussionist James Baker added syllabic chants to Sid Richardson's florid, declamatory Astrolabe (2014, rev. 2022). Omitting the piano for Sonata a quattro (1982), George Perle created a luminous essay, alternating piquancy and romance. Macomber's tone and phrasing were alert and endearing, and Gross revelled in the cello's sweeter moments.
Composer Bruce Adolphe introduced the world premiere of Portraits (2021), inspired by musicians he admires. Macomber and Gross were especially engaging in the jazz-inflected tribute to Milton Babbitt.
A founding member of the group, Joan Tower, wrote Looking Back (2018) in honour of André Emilianoff, the group's cellist from 1976 to 2011. Amid Tower's savage rhythms, Gross was particularly luminous in the stirring cello writing near the end.
BRUCE HODGES