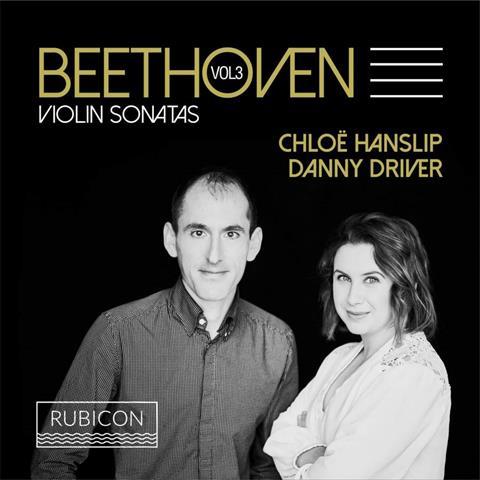 The Strad Issue: March 2019
Description: Another triumphant conclusion to a Beethoven series
Musicians: Chloë Hanslip (violin) Danny Driver (piano)
Works: BEETHOVEN Violin Sonatas: no.2 in A major op.12 no.2, no.10 in G major op.96, no.9 in A major op.47 'Kreutzer'
Catalogue Number: RUBICON RCD1012
With the third release in this distinguished series, Chloë Hanslip and Danny Driver complete their Beethoven violin sonata cycle with readings that strikingly point up the composer's musical journey from the piano-led, Mozart-in-overdrive shock tactics of his op.12 to the enhanced instrumental equality of the 'Kreutzer' and (most especially) op.96.
Recorded, as before, live at Southampton's Turner Sims Concert Hall in gently cushioned yet detailed, impactful sound, Hanslip and Driver relish the composer's ingenious interplay between the two (by their nature unequal) instruments with a joyful spontaneity rarely captured in the studio.
This is particularly unmistakable in a reading of the early A major Sonata that dances in the outer movements with choreographic flair – the finale feels like a playful take on the minuet – and turns poetically inward in the central tonic-minor Andante, while observing with exquisite subtlety Beethoven's instruction that it should lean towards the lighter touch of an allegretto.
No less beguiling is their predominantly cantabile approach to the 'Kreutzer', in which passages that often sound effortful and tonally undernourished retain an excited luminescence and absolute musical–technical composure.
Most remarkable of all is a glowingly affectionate reading of op.96 that rejoices in the music's predominantly easy-going classical outlines without a hint of furrowed-brow rhetoric. A triumph.
JULIAN HAYLOCK