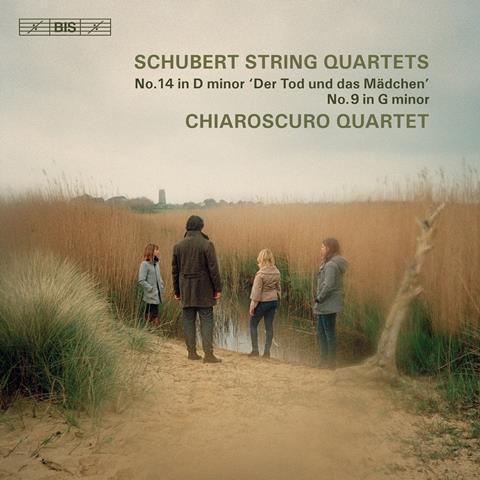 The Strad Issue: December 2018
Description: Light and shade abound in performances of brisk, fierce beauty
Musicians: Chiaroscuro Quartet
Works: SCHUBERT String Quartets: no.14 in D minor D810 'Death and the Maiden', no.9 in G minor D173
Catalogue Number: BIS BIS-2268
This is not just 'Death and the Maiden' in the slow movement: it's 'Death and the Maiden' all through, with constant startling contrasts switching from severity to vulnerability.
The players take the first-movement Allegro at a brisk pace, with the opening outburst ferocious and the pianissimo that follows all but inaudible. The second subject is beguiling, but then first violinist Alina Ibragimova explodes into vehement semiquavers. The first variation of the Andantino is tender and uncertain, after which Ibragimova plays delightful filigree figuration to complement cellist Claire Thirion's wonderful melody.
There is fire in the dactylic variation and some serious triple-forte to come, as Schubert demands. They bite in the Scherzo, while the finale, like the first movement, goes at a furious pace, with playing of grim determination balanced by moments of gentleness. This is a dramatic and unsettling performance, its beguiling beauties furiously dispelled.
The opening of the G minor Quartet is pretty fierce as well, but there are amiable things in store. The opening of the development is mysterious and beautifully played; the Andantino is nicely faux-naive, and the finale has Haydnesque grace and wit. The recorded sound is clear and warm.
TIM HOMFRAY