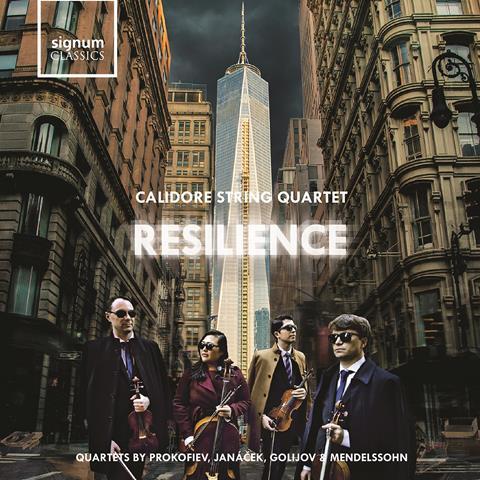 THE STRAD RECOMMENDS
The Strad Issue: December 2018
Description: Superb young quartet presents a timely and thought-provoking programme
Musicians: Calidore Quartet
Works: PROKOFIEV String Quartet no.2 op.92, JANÁČEK String Quartet no.1 'The Kreutzer Sonata', GOLIJOV Tenebrae, MENDELSSOHN String Quartet no.6 in F minor op.80
Catalogue Number: SIGNUM CLASSICS SIGCD 551
The Calidore Quartet, formed at the Colburn School in Los Angeles in 2010, has chosen 'resilience' as the theme of this cleanly recorded new disc, a result of its sponsorship by both the Borletti-Buitoni Trust and BBC Radio 3's New Generation Artists scheme.
Inspired by the turmoil surrounding the 2016 US presidential election, this cleverly devised selection of quartets (refreshingly mirroring a concert programme rather than a need to compartmentalise composers) brings together four creative artists working through internal or external conflict in their music, from unrequited love to grief.
The players present an impressive sense of ensemble, even in the wilder individualism of the part-writing in Janáček's First Quartet, where some of the music's audacity feels a little smoothed over as a result. Golijov's Tenebrae is one of those mood-music meditations so beloved of latter-day spiritual minimalists and the intensity of its inspiration – the composer's visit to Israel during one of its more violent recent episodes – doesn't always come across.
More visceral are the wartime experiences of Prokofiev, as reflected in a vital account of his Second Quartet, and Mendelssohn's tormented elegy to his sister Fanny in a performance of the F minor Quartet that leaves no emotion untapped.
MATTHEW RYE