Cross-generational magic from the Brodskys and Laura van der Heijden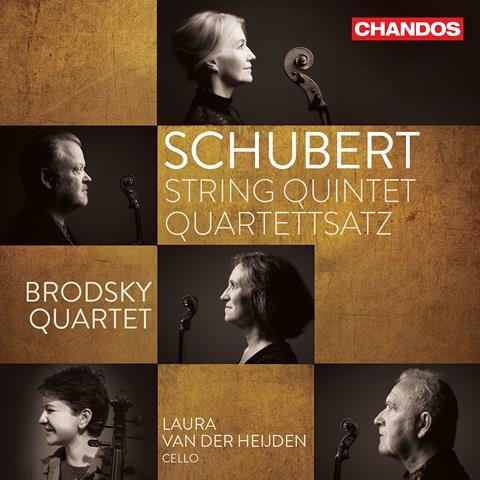 The Strad Issue: December 2022
Description: Cross-generational magic from the Brodskys and Laura van der Heijden
Musicians: Brodsky Quartet, Laura van der Heijden (cello)
Works: Schubert: String Quintet D956; Quartettsatz D703
Catalogue number: CHANDOS CHAN 10978
Even in the context of marking the Brodsky Quartet's 50th anniversary, this is a wonderfully distinctive recording of Schubert's great String Quintet. And, while the choice of Laura van der Heijden as additional cellist would always be a boon, it's an especially emotionally resonant touch given that the age gap between her and the quartet is similar to the one between the Brodsky players and their mentor Terence Weil when they performed this work with him.
As for defining features, think buoyancy and definition – with plenty of air surrounding the staccatos, and crisply precise note-values into which at times come expertly weighted rubatos and pauses. There's also fine dynamic clarity, and a dry-toned lucidity intoned with aching sweetness one moment and acerbic punch the next. The work's quietness, fragility and violence all feel grippingly magnified. Highlights include, in the Allegro ma non troppo, the tiny pulls at ends of the second subject phrases that create a delicate hesitancy; the Adagio's outer sections of prayer-like quiet and high textural contrasts, then the shock of its central, angrily churning instability; and the proud poise of the last two movements.
The Quartettsatz is no less successful, and the whole lot is captured with clarity. Highly recommended.
CHARLOTTE GARDNER