Stimulating performances of a man once described as the Paganini of his age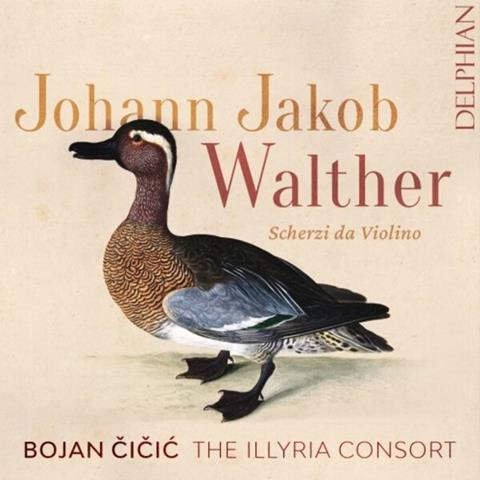 The Strad Issue: January 2023
Description: Stimulating performances of a man once described as the Paganini of his age
Musicians: Bojan Čičić (violin) Illyria Consort
Works: Walther: Scherzi da Violino
Catalogue number: DELPHIAN DCD34294 (2CDs)
Johann Jakob Walther (1650–1717) may be less of a household name than his near contemporaries Biber and Westhoff (let alone their Italian confrères Corelli, Vivaldi et al), but he was one of the 17th century's most renowned and influential violinist-composers. Indeed it was Walther who was singled out by the music historian Joseph-François Fétis as 'the Paganini of his age'. Born in Thuringia, Walther spent some crucial years at the ducal court in Florence, an experience that doubtless helped to secure him a position as primo violinista da camera at the Italianate electoral court of Dresden. An edition of Walther's Scherzi da Violino Solo, published in 1687 in Mainz, where he spent his last years, bears an effusively thankful dedication to his Tuscan employer, Grand Duke Cosimo III.
The collection's title rightly suggests that nothing stuffily academic is to be expected therein. Only the first piece is a traditionally built, four-movement suite. Its opening Allemande includes six progressively intricate variations; here and in the following dances, Walther has written out all the repeats in what amounts to a free lesson on the art of embellishment. The following eleven scherzos are each in one multisectional movement, Walther giving free rein to his fantasy in short segments that thoroughly explore different aspects of Baroque violin virtuosity: multiple-stopping, fast runs, up-bow staccato, bow vibrato or arpeggiando passages, both slurred (ondeggiando) and bouncing. Bojan Čičić takes everything that is thrown at him comfortably in his stride, seasoning his Tononi's slender sound with tastefully varied vibrato.
Walther's tenth piece, titled Imitatione del cuccu, must have been in Vivaldi's mind when he set to music a cuckoo of his own in 'Summer' from The Four Seasons. Both composers embed the two notes that make up the cuckoo's call within furious passages of bariolage, but Walther also features them prominently within an imitative context, and hints at them in a Sarabande-like section. Čičić adds a further turn of his own by embellishing the last chord with a final recollection of the motif. His imaginative embellishments are a joy throughout this beautifully produced set, as is the kaleidoscopic realisation of the continuo by the Illyria Consort.
CARLOS MARÍA SOLARE