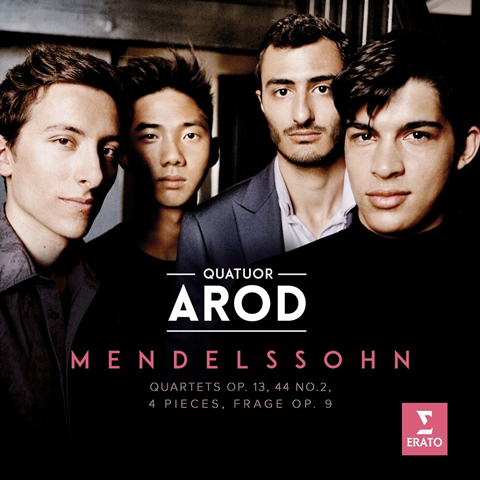 The Strad Issue: March 2018
Description: Outstanding musicianship makes for an impressive recording debut
Musicians: Arod Quartet, Marianne Crebassa (mezzo-soprano)1
Works: MENDELSSOHN String quartets: in A minor op.13, in E minor op.44 no.2; Four Pieces op.81; 'Frage' op.9 no.11
Catalogue Number: ERATO 0190295761127
The Arod Quartet's debut album focuses on works by Mendelssohn, for whom these musicians have been compelling advocates in international competitions (see article in February 2018). Brilliantly led by Jordan Victoria, whose technical prowess, expressive range and instinctive musicianship are outstanding, the players offer interpretations which are fresh, pliable and musically convincing; and the recording is such that pertinent solos and figurations in the inner voices are as sonorous and audible as in the outer parts. Sample, for instance, the fine detail of the fugal passages in op.81 nos.3 and 4 or the second movement of op.13 and the crisply articulated textures of the scampering scherzos of op.44 no.2 and op.81 no.2.
The Arod demonstrates a fine sense of architecture throughout, highlighting key structural points such as the reprise and coda of op.44 no.2's opening movement with telling effect and interpreting the recitatives of op.13's finale with mature musical insight. They are alert to every mood-change in this often highly charged music, relishing the drama and sheer drive of op.44 no.2's Presto; but they can also be intensely lyrical, as in op.13's second movement and in the smoothly flowing Andante of op.44 no.2, introducing rubato freely and sensitively. A meaningful arrangement of the song on which op.13 is based rounds off this enjoyable disc.
ROBIN STOWELL