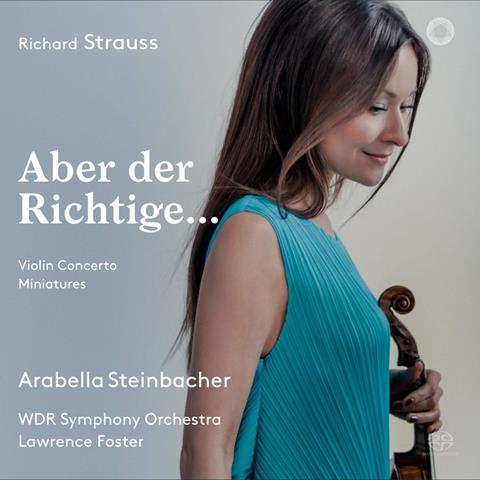 The Strad Issue: February 2019
Description: Songs without words by a genuine Straussian heroine
Musicians: Arabella Steinbacher (violin) WDR Symphony Orchestra/Lawrence Foster
Works: STRAUSS Violin Concerto in D minor op.8; Romanze; Little Scherzino op.34 no.4 (arr. Wienhardt); Zueignung op.10 no.1; Traum durch die Dämmerung op.29 no.1; Cäcilie op.27 no.2; Wiegenlied op.41 no.1; 'Aber der Richtige…' from Arabella (arr. Wienhardt)
Catalogue Number: PENTATONE PTC 5186 653 (hybrid SACD)
Named after an operatic heroine by her Strauss-mad parents, Arabella Steinbacher finally gets to play her 'own' music on this disc, thanks to a new violin-and-orchestra arrangement of the poignant duet from Strauss's Arabella on the subject of finding Mr Right.
The violinist apparently grew up with its musical notes on the banisters of her family home, and she shapes the melody, often in seamlessly managed streams of 6ths, with warmth and sincerity.
The main work here is Strauss's Violin Concerto, too early an example of the composer's output, one feels, to have found a proper place in the repertoire. It barely sounds like Strauss, but the 17-year-old's violin writing is phenomenally assured (it was his own instrument), with virtuosity from the opening bars of its solo part.
Steinbacher, effectively if discreetly accompanied by the WDR forces (the balance seems more forward in the surrounding pieces), makes a convincing case for it, finding depth of feeling in the opening movement, delicacy in the central Lento and a delightfully light touch for the skittering tarantella of the finale.
Apart from an arrangement of a piano miniature (the Scherzino) and a violin version of the cello Romanze, the rest of the disc celebrates Strauss's love of the human voice as transferred to the violin, with Steinbacher exhibiting her characteristic control and lyrical ease throughout.
MATTHEW RYE
Read Arabella Steinbacher's top 5 practice tips here