Cello virtuosity elevated to high art through compelling musicality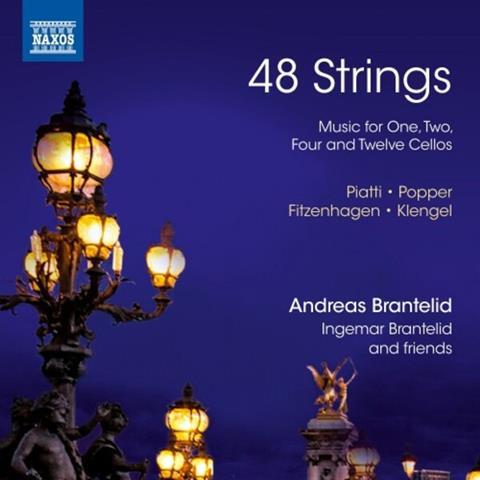 The Strad Issue: September 2022
Description: Cello virtuosity elevated to high art through compelling musicality
Musicians: Andreas Brantelid, Ingemar Brantelid (cellos) and friends
Works: Piatti: 12 Caprices op.25. Popper: Suite for two cellos op. 16. Fitzenhagen: Concert Waltzes for four cellos op.31. Klengel: Hymnus for 12 cellos op.57
Catalogue number: NAXOS 8.754310
It's a brave cellist who lays their technique bare by recording Piatti's 12 Caprices, cornerstones of advanced cello training. All unaccompanied, there is nowhere to hide, and no let-up in extreme technical difficulty. Brantelid more than meets the challenge, not only producing flawless examples of high-tessitura octaves, rapid arpeggiated cross-string semiquavers and formidable double-stops, but showing them off as charming and attractive music.
The influence of Piatti's close friend Verdi is evident in passages of eloquent recitative-like double-stops and operatic-style heroic melodies. Time and again Brantelid skilfully draws out the melody from the myriad of accompanying notes, turning something that looks pretty daunting on the page into a playful trifle. The recorded sound, clear and immediate, brings out the warm resonance of his 1707 'Boni-Hegar' Stradivari.
Brantelid's father joins him for a joyful and stylish rendition of Popper's Suite, the two instruments moving as one. Fitzenhagen's Concert Waltzes sound a like an extreme string quartet, so high does the upper part play, and there is some wonderful rubato from the four cellists. Klengel's Hymnus, featuring the 48 strings of the disc's title, is rightly the most renowned work here, its sheer richness of sound culminating in a celestial-sounding closing chord.
JANET BANKS