Absorbing the particular terroir of Czech music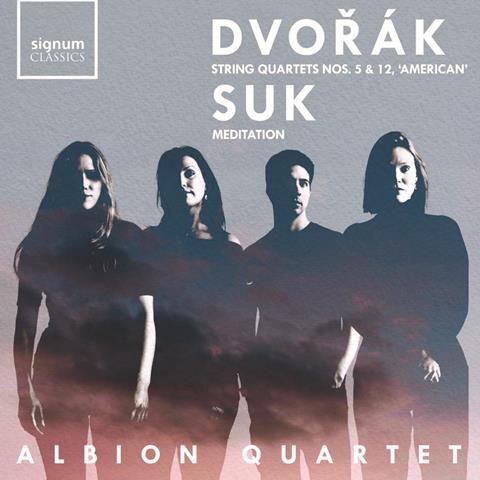 The Strad Issue: July 2019
Description: Absorbing the particular terroir of Czech music
Musicians: Albion Quartet
Works: DVOŘÁK String Quartets nos.5 & 12 SUK Meditation
Catalogue Number: SIGNUM SIG CD555
This looks to be the first in a series of Dvořák string quartet recordings and it could prove to be an intriguing one. The Albion Quartet has consciously tried to cultivate a Czech sound for this music and the result is a real talking point, heard immediately in the Fifth Quartet: highly reactive and changeable, of relatively light bow pressure but notable tension, and with a discernibly old-school feel that is closely recorded but with reverberation.
Thrillingly idiomatic or bizarrely wrong-headed? Well, possibly not the latter but the results are curious nonetheless. I found the opening of the Fifth unusually charming and engaging, the rhythmic emphases paying off in particular. In the muscular episodes – particularly the Fifth's Allegro con brio and Finale – feathers fly and the Albion's uncompromising, grainy sound is laudably anti-aristocratic.
Elsewhere, I sense the idea of the Czech tradition curtailing personal, integral musicianship: the lightness of the 'American' Quartet's finale feels more about style than what the music wants to say and the severity of the preceding movement is awkwardly full-on. Likewise, timbral harmony is unsettled in Suk's Meditation, which ultimately effects cohesion on a macro as well as micro level. This jury's out, but there's no doubt these recordings make for a fascinating and enticing listen for anyone interested in quartet playing style and its relationship to geography.
ANDREW MELLOR