An enterprising coupling linked by a single year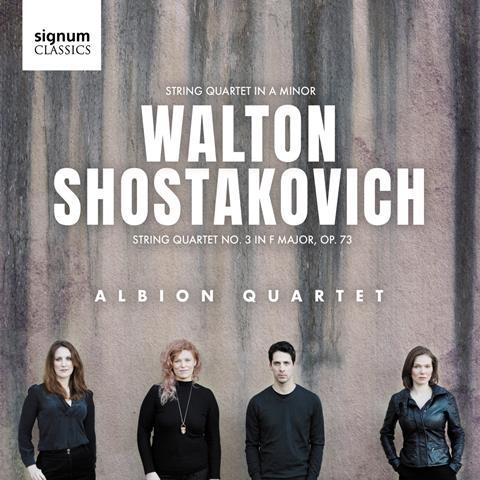 The Strad Issue: January 2023
Description: An enterprising coupling linked by a single year
Musicians: Albion Quartet
Works: Shostakovich: String Quartet no.3 in F major. Walton: String Quartet in A minor (1946)
Catalogue number: Signum SIGCD727
The year 1946 is the key date here, linking two composers who had endured very different wars – Shostakovich fighting fires in the siege of Leningrad, Walton holed up in an English manor house – and their efforts in the aftermath to define a new creative direction through the medium of the quartet.
Walton's abrasive essay is a tantalising tale of what might have been, had he continued down the same path. The virtue of the Albion's account, though, lies in the players' grasp of how the quartet takes its place in the story of a career linking the abrasive, Bartókian edges of the unnumbered, pre-war quartet and the First Symphony to the bittersweet, harmonically conservative elegies of the later Cello Concerto and Second Symphony.
Its sound is attenuated, refined and entirely modern, beautifully contoured to the first movement's febrile energy and the 'night music' skitterings of the scherzo. Ravishing pure tone in the upper strings sets an expectant scene for the warmth of the viola's solo like a premonition of the love music in Walton's Troilus and Cressida, which briefly raised hopes of a new English Puccini.
Rather than older and more easy-going versions of the piece, the Albion's approach resembles the Chiaroscuro Quartet's Haydn, for example, and such intimacy and deft articulation makes perfect sense of the Classical sonata-form to open Shostakovich's Third. The heavy Russian pathos and grinding machinery of (say) the Borodin Quartet in this music is a world away from the Albion's lightness of being. The recording catches the players on the very edge of audibility in the tiptoeing trio of the first scherzo and in the finale's protracted coda, drawn out here some way beyond the composer's metronome mark but convincingly so: not so much a laying of the recent past to rest as a portent of a troubled future.
PETER QUANTRILL