The sale of the 'Lady Blunt' Stradivarius violin for £9.8m in 2011 broke all auction records, but high prices for instruments are nothing new, writes Benjamin Hebbert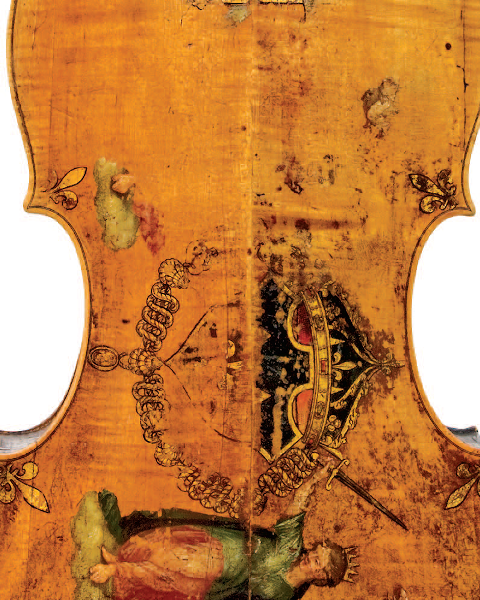 The appraisal of instruments' values started early. Already at the beginning of the 17th century, musical instrument connoisseurs had begun to distinguish between the qualities of new and old specimens. When the Italian astronomer Galileo Galilei was looking to buy a violin in 1637–8, his agent sought the advice of Claudio Monteverdi, whose nephew lived in Cremona. The young man wrote back, explaining that he wished 'to send an instrument of exquisite work', although its Cremonese maker needed time to 'bring it to perfection'. The letter continued: 'He can, however, offer an old one of superlative merit, but the price asked is two ducats more – that is, fourteen. I have requested him to have this one sent at once, irrespective of price.' We can safely assume that the maker referred to was Nicolò Amati. The statements applied to both the new and older work on offer make it clear that for Cremonese violins, at least, the advantages of age were already well understood.
Meanwhile, in England, before his death in 1626, the philosopher Francis Bacon expressed the view that 'old lutes sound better than new', reiterating an axiom now familiar in the violin market. This was at a time when a professional lutenist might pay £2–£3 (the equivalent of £250 today) for a good instrument, and £10 (£900 today) for an exceptional one – although antique instruments could make three or four times more. In an exceptional case, King Charles I was reputed to have paid £100 (£8,500 in today's money) for a prized old lute by the Bolognese maker Laux Maler.
During the 17th and 18th centuries (a period of negligible inflation), receipts from the Lord Chamberlain's account books of the English royal court repeatedly give values of between £10 and £12 (the equivalent of £900–£1,200 today) for violins, sometimes described as Cremonese, purchased for musicians in the King's employment. Returning from Paris in 1662 (where he had been sent to learn the French style of playing from Lully), Master of the King's Violins John Bannister submitted receipts for two Cremonese violins at a value of £40 (£3,000 in today's money). The previous year, the German violinist Thomas Baltzar submitted a receipt for £34 3s 4d (the equivalent of £2,600 today) to buy a pair of fiddles for the King's service. These prices seem to reflect the purchase of very special violins, and were a foretaste of what was to come as the violin sonata became popular among wealthy amateur players.
Before long, the prestige of owning the most celebrated violins would drive prices ever upwards. The passion for Cremonese violins that followed was noted by the poet and playwright Thomas Shadwell in his 1672 work The Miser, where he noted a 'Cremonia violin' among the essential assets of a true lover of music. Writer John Evelyn even noticed a reversal in the trend, commenting in 1683: 'Nor have the Cremona Violins or Loxmollar [Laux Mahler] Lutes been lately of such excessive prices as formerly.' The prices of Cremonese violins were ever escalating, and as the instruments grew more and more popular, they increasingly found their way into the imagination of the broader population, a section of society that was more diverse than the wealthy elite that owned them.
A 1692 auction set the trend for violin sales in the century that followed. Edward Millington, a prominent auctioneer working at the Vendu auction room in Charles Street, London, advertised 'a number of curious violins, Cremonia and others' that formed part of a sale of old-master paintings. Although the results of the sale are not known, the playwright Thomas Southerne may have been referring to them in his play The Maid's Last Prayer of the following year, in which a character called Sir Symphony plausibly remarks: 'Mine's a Cremona, and cost me 50 pounds, gentlemen. Pray suspend your curiosity, and come to my chamber, and I'll resolve you any Question in Musick.'
The earliest record of a violin achieving £100 is found in 1705 when Nicola Cosimi, a pupil of Arcangelo Corelli resident in London, and an inveterate instrument dealer, sold a violin to Lord Baltimore (its equivalent price today would be £7,800). For the century that followed, the sum of £100 appears to have remained as a sort of ceiling for the value of violins. In 1774, for example, the Carbonelli sale conducted by a Mr Bremner on the Strand achieved 80 guineas (£5,300 in today's money) for a Stainer of 1668, 60 guineas (£4,000 today) for another made in 1674, and a mere 30 guineas (£2,000) for a Stradivari.
The sale of a significant music collection belonging to John Stanley, conducted by James Christie in 1786, included a 1617 Amati violin and a 'Cremona' dated 1657. The publicity surrounding the sale and the high prices it achieved promoted an excitement for violins at auction. Satirist Peter Pindar wrote one of his Farewell Odes for the Year 1786 in memory of the event:
Thus prove a crowd, a Stainer, or Amati;
No matter for the fiddle's sound:
The fortunate possessor shall not bate ye
A doit, of fifty, nay a hundred pounds:
And tho', what's vulgarly baptiz'd a rep,
Shall in a hundred pounds be deem'd dog-cheap.
In the same year, the playwrights Elizabeth Inchbald and Thomas Holcroft took the same circumstances to an extreme in the prologue of The Widow's Vow:
How shells, stuff'd monkies, and Cremonas old,
In hand of Auctioneer, are current gold!
He 'Going! Going!' cries 'The hammer's up!
'This fine antique! this Roman – Candle-cup!'
A gem so rare makes connoisseurs turn pale,
Fearful, alike, to purchase or to fail!
Hope trembles, starts, from lip to lip rebounds,
Till down she's knock'd by – Ah! – one thousand pounds!
The explanation for high prices up to the beginning of the 20th century appears to have been passion rather than sound economic sense: the most generous sums were often paid within close social groups where an instrument had become highly coveted. One such example was a Barak Norman cello that belonged to the cellist and viol player John Crosdill. The Prince of Wales, one of Crosdill's pupils, liked the cello and offered several large sums for it. Having had all of his offers refused, the prince then borrowed the cello and never returned it. Crosdill was instead allowed to keep an Amati cello that had cost 70 guineas (the equivalent of £4,600 today) in lieu of it, and given a sinecure position that paid £100 per year (£6,200 in today's terms). The exact date of this agreement is unknown, but it must have been at least five years before Crosdill's death in 1825, since the Prince was crowned George IV in 1820. That means that the package offered in place of the cello was worth a minimum of £500 plus the value of the Amati cello – a total of £26,000 in today's money.
Yet with even the greatest of instruments, over-pricing could leave an auctioneer severely burnt. This was the case at the 1827 Christie's sale of instruments belonging to the late collector William Curtis. A Spanish court viola estimated at 150 guineas (the equivalent of £6,600 today) did not receive a single bid, and the 1572 'King' cello by Andrea Amati (pictured) failed to sell against an eye-watering estimate of 500 guineas (£22,000 in today's money)
The papers of one William Dickson of Northumberland, the owner of a Stradivari violin in 1870, comment on the sale offer of the Amati cello: 'A document was given to the proprietor when he purchased this instrument, stating that it was presented by Pope Pi