A number of the candidates are prize winners from other international competitions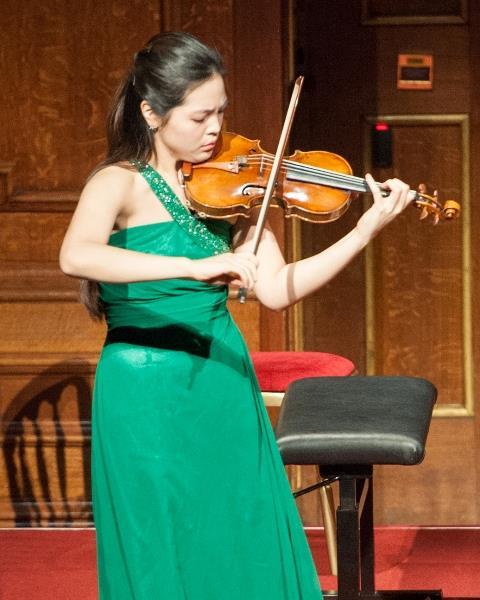 The Queen Elisabeth Competition in Belgium – which this year is devoted to violin – has announced the names of the 24 candidates who will progress to the semi-final rounds, taking place this week. Each violinist will perform a 40-minute recital and a Mozart concerto with the Orchestre Royal de Chambre de Wallonie, conducted by Paul Meyer.
Among the semi-finalists are several familiar performers – including 2014 Menuhin Competition Senior Division winner Stephen Waarts, 2012 Menuhin Competition Senior Division winner Kenneth Renshaw, 2013 David Oistrakh Interntional Violin Competition Senior Division winner and 2015 Windsor String Competition winner Ji-Yoon Lee (pictured), and 2012 Joseph Joachim International Violin Competition Hannover finalist Bomsori Kim.
Chaired by Arie Van Lysebeth, the 2015 jury comprises Pierre Amoyal , Patrice Fontanarosa, Daniel Hope, Nai-Yuan Hu, Dong-Suk Kang, Nam Yun Kim, Mihaela Martin, Midori, Natalia Prischepenko, Marco Rizzi, Akiko Suwanai and Gilbert Varga.
The 2015 first laureate will receive a prize of €25,000 and the loan of the 'Huggins' Stradivarius violin by the Nippon Music Foundation for a period of four years.
The 24 semi-finalists are:
Tobias Feldmann, Germany
Kristi Gjezi, France
William Hagen, United States
Suyeon Kang, Australia
Bomsori Kim, South Korea
Ji-Yoon Lee, South Korea
Ji Young Lim, South Korea
Vladyslava Luchenko, Ukraine
Michiru Matsuyama, Japan
Fumika Mohri, Japan
Solenne Païdassi, France
Rosanne Philippens, Holland
Thomas Reif, Germany
Kenneth Renshaw, United States
Oleksii Semenenko, Ukraine
Brendan Shea, United States
Ji Won Song, South Korea
Elly Suh, United States
George Tudorache, Romania
Stephen Waarts, United States/Holland
Xiao Wang, China
William Ching†Yi Wei, Taiwan
Momo Wong, Japan/United States
Yoon Yang, South Korea
The Queen Elisabeth Competition has helped to launch the careers of a number of outstanding violinists, including David Oistrakh in 1937, Jamie Laredo in 1959, Miriam Fried in 1971, Vadim Repin in 1989, Nikolaj Znaider in 1997 and Ray Chen in 2009. 2012's winner was Russian violinist Andrey Baranov .
For further information visit the Competition website.
Photo: Windsor Competition/Gill Aspell
Subscribe to The Strad or download our digital edition as part of a 30-day free trial. To purchase single issues click here.