The 24 international cellists are competing for a grand prize of €25,000 in Brussels from 8 May to 3 June 2017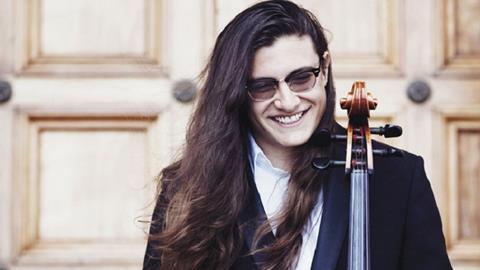 The Queen Elisabeth Competition has named the 24 cellists selected to progress to its semi-final rounds, following the conclusion of the first round in Brussels last week.
Whittled down from 70 candidates, the 24 remaining cellists will this week perform a 40-minute recital and a Boccherini or Haydn concerto with the Orchestre Royal de Chambre de Wallonie, conducted by Frank Braley. Just 12 candidates will be selected to compete for the €25,000 grand prize in the final, involving the performance of a concerto and a compulsory work specially composed for the competition accompanied by the Brussels Philharmonic conducted by Stéphane Denève.
The 24 semi-finalists are:
Thomas-Michael Auner (Austria)
Santiago Cañón-Valencia (Colombia, pictured)
Brannon Cho (United States)
Julia Hagen (Austria)
Sihao He (China)
Christoph Heesch (Germany/Japan)
Irena Josifoska (Hungary/Serbia)
Victor Julien-Laferrière (France)
Ayano Kamimura (Japan)
Seungmin Kang (South Korea)
Ivan Karizna (Belarus)
James Jeonghwan Kim (South Korea)
Anastasia Kobekina (Russia)
Maciej KuŠ'akowski (Poland)
JeongHyoun Christine Lee (South Korea)
Yan Levionnois (France)
Shizuka Mitsui (Japan)
Yuya Okamoto (Japan)
Jonas Palm (Germany)
Aurélien Pascal (France)
Bruno Philippe (France)
Astrig Siranossian (France)
Valentino Worlitzsch (Germany)
Alexey Zhilin (Russia)
This year's Queen Elisabeth contest, taking place from 8 May to 3 June 2017, is the first to be dedicated to the cello – the fourth instrument to be included in the annual contest, which up to this point has covered violin, piano and voice in a three-year cycle.
Sitting on the 2017 jury are: Gautier Capuçon, Marta Casals Istomin, Henri Demarquette, Roel Dieltiens, David Geringas, Natalia Gutman, Marie Hallynck, Frans Helmerson, Gary Hoffman, Anssi Karttunen, Mischa Maisky, Antonio Meneses, Truls Mørk, Jian Wang, Pieter Wispelwey and Arie Van Lysebeth (jury chair).
The inaugural QEMC in 1937 was devoted to the violin and dedicated to Eugène Ysaÿe, who had recently died. David Oistrakh, then aged 28, was the competition's first winner. The first piano competition took place the year after. Singing was added in 1988. There is also a composition competition, which is run outside of the three-year cycle.
The 2015 Queen Elisabeth Competition was won by violinist Ji Young Lim.