The Omer Quartet passes on lessons learned during their first year of residency at Boston's New England Conservatory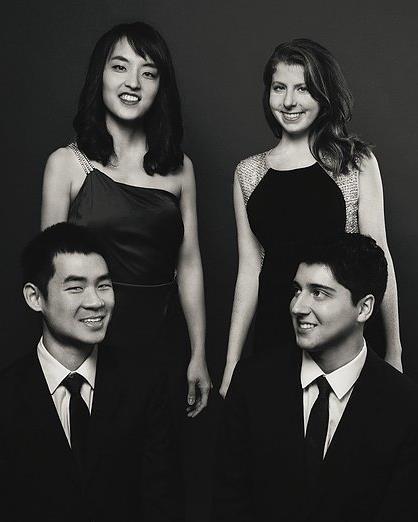 After seven years together as a quartet, we have learned that professional development is just as important as rehearsals and performances. This year, we embarked on New England Conservatory's Professional String Quartet Training Program, a two-year residency, which is providing a very unique paradigm through which to view our future as a group. Here are some of the lessons we have learned:
The Value of Individual Playing:
Individual practice and projects help to strengthen your ideas for group rehearsal, and keep you technically challenged as a player. As students, we do not want to stagnate in our development as individual instrumentalists. We strive for a daily regimen of at least three hours of individual practice on top of rehearsing for four and a half hours. Everybody approaches this in different ways; we also try to perform a solo piece or collaborate with other musicians a few times a year.
Tip:
Plan your individual practice. Divide your work between solo pieces/individual projects and quartet parts. One benefit of being in a quartet is that you receive daily lessons from your three colleagues. Take this into the practice room—when practising, imagine having your three quartet colleagues there listening to you and what they would say about your playing.
In Rehearsal: Warm-ups
Group warmups are fundamental to our morning rehearsals. We have a menu of different warm-ups based on our chosen technical theme of the week. Currently, we start every morning with a few choral phrases and listen for group sound and blend. Then we play one phrase several times, each time focusing and imitating one individual's phrasing and way of playing.
Tip:
We have used the following techniques to work on different aspects of playing together:
• Play open strings together, which can help bow changes, bow speed unification, following a dynamic shape…just to name a few
• Play scales, focusing on intonation and balance.
• Play chords built on the scale degrees, concentrating further on intonation, feeling the part of the chord you play.
• Play an exercise each day from a great technique book by André Roy, entitled 'String Quartet Technique', which is especially challenging in terms of intonation and coordination.
These are just a few of the warm-ups we have compiled from many of our mentors, but they are constantly changing. By the time you read this, we will probably have started a new warm up routine!
In Rehearsal: Repertoire
Our rehearsal format changes daily and this technique has been very beneficial: we work on one movement and then run into another movement in one rehearsal, then in the next rehearsal, we run the movement we worked and work on the movement we ran previously. We also always try to run through a few movements daily to simulate a performance.
Tip 1:
Try to evolve your rehearsal routine on a daily basis and be flexible. Rehearsal techniques may feel inspirational one day, but on another day dull and pointless. Be patient. There is no secret recipe to playing together.
Tip 2:
When a deadline is approaching and you need to learn a new piece quickly, we 'reverse plan'. First pick a date you'd like to have the entire piece ready by for a run through. Count how many days you have between now and then, and then put in benchmarks of when certain movements must begin. We like to start with the hardest movement first, then start other movements several days after each other.
Preparing for recordings:
Simulate a recording environment many times before the real recording session takes place. For our first real recording session – during which we were to record three big movements (a big mistake!) – we prepared by recording a movement every day, two weeks before recording day. In the end, this technique backfired. Because we had recorded every day, we became too confident and complacent and failed take the final 'real' recording seriously. For our next recording session we decided to simulate the recording environment a week in advance. In these mock sessions, we performed at least three takes of one movement to simulate a real recording session. This worked much better, and we felt very comfortable in the actual recording environment.
Outside of Rehearsal:
We have a lot of administrative tasks to work through as a quartet each month and we are very busy, so this can be a real challenge. We plan meetings that have a definite end time, so we aren't overwhelmed. This helps us clearly focus on the goals at hand. We also separate our meeting agenda out by short-term and long-term objectives to keep our intentions clear.
Tip:
Spend quality time with your quartet and have heart-to-heart talks. This keeps everyone inspired and creates a supportive environment for your music.
In conclusion, the lifestyle of a rehearsing young quartet is exhausting. Between rehearsing many hours, preparing for those rehearsals and practising, all the while maintaining some resemblance of a normal life, you are bound to get run down a bit. It's important to know when you need to recharge. Find those things that inspire your energy, enthusiasm, and clarity. Whether it's running, or yoga, or swimming, or going to the movies, or exploring a new restaurant, it's so valuable to have 'go to' ways of unwinding and recharging. Enthusiasm and curiosity have proved to be invaluable to our group and learning ways to stay fresh has made a big difference.
Comprising NEC, Juilliard, and Curtis graduates, the Omer String Quartet was established at the Cleveland Institute of Music in 2009. In 2013, the Quartet was awarded the Grand Prize and named Gold Medal winner of the 40th Fischoff National Chamber Music Competition. The Omer Quartet are currently being mentored by cellist Paul Katz through New England Conservatory's Professional String Quartet Training Program. The highly selective course offers a two-year residency to exceptional ensembles that show the talent and commitment necessary to pursue a concert career.
Read: 10 ways to achieve long-term success with your string quartet