To tie in with the Scottish Chamber Orchestra's 6-week series of streamed lunchtime concerts, Rachel Smith, one of the orchestra's violinists, reflects on the experience of performing chamber music in the time of Covid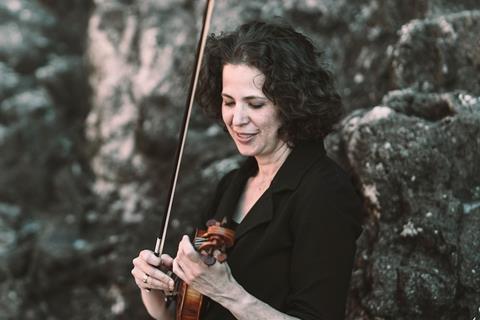 A colleague and friend of mine told me recently that he'd been listening to an old LP recording of the Scottish Chamber Orchestra doing a live concert for the Edinburgh Festival. 'Yes, the music and the performance were beautiful', he said, 'but what really got me was the sound of the audience. Like a living, breathing animal - I was moved to tears.'
Today I heard a poet and performer speaking on the radio about how he misses 'surfing the energy of the people in the room'. These thoughts verbalise what I've been missing for so long now. One can hear, see and sometimes even smell a live audience, but the energy - the most palpable thing of all - is the invisible and reactive thread that spurs us on to tell the story on stage. A live concert is a 'trialogue' between composer, performer and audience; often the balance can be skewed towards one of these, but if we're missing one altogether, it loses a dimension. After a forced break of 6 months from our orchestral lives, the SCO decided to replace our original Autumn season with a series of online, player-curated, mostly pre-recorded chamber music concerts. We suddenly found ourselves in front of cameras, without audience - a new animal that most of us had not encountered much before -'You can see me, but I can't see you'! I curated one of the first programs we performed online in September - Schumann's Märchenerzählungen and Brahms' G Major String Sextet.
This Brahms sextet has always held a special place in my heart. The first three movements speak of yearning and ambiguity, the first movement a sort of musical goodbye to his former fiancée, Agathe von Siebold and the third, based on a musical love letter to Clara. It took Brahms a year to return to the piece, when he wrote the last movement- cathartic and carefree, a real liberation- something which we can all relate to after almost a year of uncertainty.
What a treat it was to be playing again, with such wonderful colleagues - Gordon Bragg, Felix Tanner, Asher Zaccardelli, Philip Higham and Donald Gillan. Then, my second thought- how can we feel comfortable and sound coherent while playing two metres apart? The distance made me feel as if my senses were dulled: apart from not hearing clearly enough, was I needing a new glasses prescription?! It made me think of trying to cook a complex meal without a proper sense of smell. I was reminded of trying to play along with CDs in my early teenage years (am I the first to admit to this in print?), except the stereo was now in the next room. My instinct was to try to play larger than life to overcome the space, but in actuality I found myself doing just the opposite as my brain tried to recalibrate the changes.
Read: How we maintained a chamber music career in lockdown – the Carducci Quartet
Read: What does it feel like to play in a socially-distanced orchestra?
Read: What does it feel like to give an online chamber concert?
In the end, it is trust that overrides the intricacies of making all this work - to trust that we know each other, ourselves and our craft well enough to see us and the music through. Everyone has had to redivert parts of their lives during the pandemic (health workers have become counselors and comforters, parents have become teachers and hairdressers, neighbours have become providers, delivery men have become heroes). I realised that there was no need to reinvent our musical selves, we just have to have the confidence to let our intuition and training come to the fore - we are more flexible than we sometimes give ourselves credit for.
We have gained from this situation in other ways - our families and friends abroad can now watch and share our concerts from halfway across the world. And anything that makes us shake up our norms and rethink can produce only positive pathways. Today I was looking online with my two small children at the wonders of the British Museum and the Amsterdam Rijksmuseum- we were all amazed and feeling so fortunate to be able to see incredible artworks, up close, at the touch of a button. Seeing art in such a different way is a little like shifting the furniture in our brain- suddenly we see things from a new perspective. But, of course, the impact of experiencing those artworks, as well as music, in all their real glory and depth after we've made the effort to go out and get to the museum or concert hall, is unparalleled. I hope we can get back there soon, carrying our newfound experiences and skills with us.
Rachel Smith, violinist, Scottish Chamber Orchestra www.sco.org.uk and Artistic Director, Stradbroke Chamber Music Festival www.stradmusic.org Scottish Chamber Orchestra stream lunchtime concerts every Friday at 1pm until 12 March. For full listings of these and other concerts visit sco.org.uk