The influential English fiddler shared his musical insights in our April 2011 issue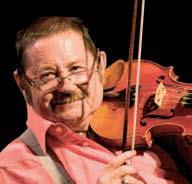 Discover more Featured Stories like this in The Strad Playing Hub
This was first published in the April 2011 issue of The Strad
The best advice I've had was from an old fiddler on the set of the film Far from the Madding Crowd. He said to bow with a loose wrist, and to imagine I was using a paintbrush.
Fiddlers should learn to read music because much of our tradition is in printed form.
It doesn't matter what style of music you play, it's all music in the end: a road to the heart and mind. What one is moved by, what you see with your eyes closed when listening, that's what matters.
Whatever tempo you think is right in the recording studio may be too fast.
A good musician should have stamina, belief, interest, imagination, and they need to be self-critical.
I tell all young fiddlers to enjoy themselves, and to join the Musicians' Union!
Look after the talent you have. What makes you happiest is doing what you do best, to the best of your ability.
This was first published in the April 2011 issue of The Strad