Ahead of the premiere of his String Quartet no.2 with Manchester Collective, Edmund Finnis explains the importance of close collaboration between composers and performers to communicate musical intentions clearly and foster a deeper mutual understanding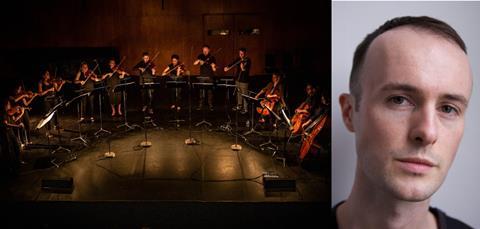 Some things just can't be written down. As a composer I spend a lot of time trying to convey my musical intentions as clearly as possible. An enormous amount of detail and precision can be communicated through a score, but there will always be a distinction between what's on the page and the myriad complex physical acts involved in bringing it to life. So wherever possible - and especially for first performances and recordings - it's invaluable for me to be able to work closely with musicians and to supplement the information contained in a score with the kind of communication that's only really possible between people sharing the same space together, listening and responding to one another.
With enough time and mutual trust, these kinds of working relationships between composers and performers can develop into a deep and richly rewarding mutual understanding. As I write that sentence my mind quickly goes to the example of composer Kaija Saariaho and cellist Anssi Karttunen, and the array of captivating solo, chamber and orchestral music that has been shaped by that particular meeting of minds.
Read: Wilhelmina Smith: Salonen and Saariaho
Read: Collaborating with a contemporary composer
Read: Manchester Collective: The Centre Is Everywhere
Over the last decade or so I've been very fortunate to encounter a good number of kindred musical spirits and to forge with them close and enduring working relationships from which I've learned a great deal. My three-year stint as composer-in-association with the London Contemporary Orchestra was hugely artistically fulfilling for me, as is my ongoing collaboration with the Manchester Collective.
With both of these groups, the opportunities to properly get to know the players and their individual approaches, to explore shared aesthetic references, to have enough time to go into great detail in rehearsals, and to build on the outcomes of previous collaborations have all led to some of the most enriching musical experiences that I've had as a composer. I have found that these kinds of close associations developed over time, from project to project, can allow for a deeper level of communication than is often possible in other circumstances. In my work with the Manchester Collective over the last few years, we have spent enough time together exploring subtle nuances of phrasing, texture, accentuation, timing and methods of sound production that many of the regular players in the group now have a highly detailed understanding of how my music works and what I am looking for when I write certain things. It means, for example, that they instinctively know how to shape certain kinds of phrases in the exaggerated, surging, quasi-Baroque way that I sometimes call for; where to make sparing use of vibrato in otherwise vibrato-free contexts; how to gradually alter the speed, pressure and position of the bow on the string to bring out the varied overtones I love; and what the dynamic extremes of this music ought to sound and feel like.
When I meet with my friends in the Collective later this week to rehearse for the premiere of my String Quartet no. 2, it gives me great confidence to know we will not be starting our interaction from scratch. We will be picking up the threads of an ongoing conversation, building on the mutual understanding that we continue developing towards a shared aim of creating vivid, rich and communicative musical experiences. That opportunity is something I hold very dear.
Manchester Collective performs music for strings, including the world premiere of Edmund Finnis's String Quartet no. 2, as part of the Spitalfields Festival 2021 at Christ Church Spitalfields, London, on Saturday 10 July at 8pm. Click here for full details: https://spitalfieldsmusic.org.uk/events/manchester-collective-x-edmund-finnis/