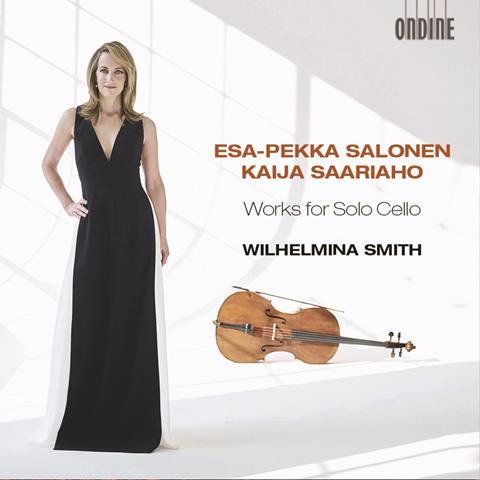 THE STRAD RECOMMENDS
The Strad Issue: June 2019
Musicians: Wilhelmina Smith (cello)
Description: Mesmerising performances of cello works for the 21st century
Works: SALONEN YTA III; Knock, Breathe, Shine; Sarabande per un coyote SAARIAHO Dreaming Chaconne; Petals; 7 Papillons; Spins and Spells
Catalogue Number: ONDINE ODE 1294-2
Both these composers seem focused on widening the orbit of virtuosity for solo cello but without losing sight of the necessity to communicate vividly to the listener. Esa-Pekka Salonen maintains a loose leverage on tonal centres, grabbing virtuosity by the throat and challenging the performer to go to the very limits of her technique. The force of his musical invention is compelling and the gestures whirl by with fantastic immediacy.
Sometimes, as in the pizzicato section of Knock, the material sounds almost like pantomime with marvellous touches of humour. In contrast, a haunting more lyrical style of writing defines Breathe. At the other end of the spectrum, Salonen's Sarabande per un coyote takes the Chiacona – a set of variations over a four-bar ground – by Italian Baroque composer Giuseppe Colombi as a starting point. He represents the Coyote running through craggy terrain as depicted by challenging harmony and dissonance. American cellist Wilhelmina Smith has studied every centimetre of the score and unleashes its drama in a brilliantly characterised rendition.
Kaija Saariaho's writing is equally demanding, but generates a more ethereal sonic world, with sul ponticello and harmonic trills fluttering delicately in Dreaming Chaconne. Here Saariaho also takes Colombi's Chaconne as a springboard as part of a larger project, involving several other composers called the Mystery Variations. In Spins and Spells, she adopts scordatura using major 6ths and 3rds instead of the conventional tuning in 5ths, thereby generating compelling new sound combinations. Once again Smith delivers another mesmerising performance and emerges as a consummate communicator of the new virtuosity.
JOANNE TALBOT