For the Modigliani Quartet, working with other artists has always been a priority – one that continues this year as the group turns its attention to Schubert, writes Charlotte Gardner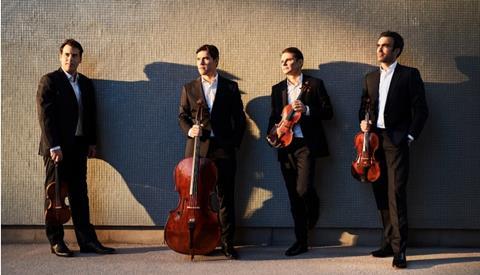 The following is an extract from an article in The Strad's February issue in which the Modigliani Quartet talks about the challenges of performing Schubert and the benefits of collaboration. To read in full, click here to subscribe and login. The February 2021 digital magazine and print edition are on sale now.
The quartet will present a Schubert focus for the 2021–2 season in honour of the 225th anniversary of the composer's birth. Plans include the curation of their own Schubertiade with a singer and a pianist, complete quartet cycles (including at Hohenems and Schwarzenberg in Austria) and a tour of the late works.
'It is music that drives us almost crazy, because it has such honesty in every note,' muses Coeytaux. 'Even in rehearsal you feel you have to try to raise yourself to that level, almost to redeem yourself. His last works are such masterpieces and so architecturally advanced that we forget that he was only around 30 when he wrote them. Every time we play them it's a real journey both for the audience and for us.'
It's also a body of chamber music that feels perfect for a quartet that collaborates with others almost as regularly as it plays as a foursome. 'We see playing with others as a base, and as an important means of nourishment,' says cellist François Kieffer. Although, as violist Laurent Marfaing adds, these partnerships have to be with musicians who really want to share the music with them, rather than appearing as the invited soloist. 'You can play with beautiful musicians, but sometimes they aren't so happy to go with your sound,' he points out. 'If that happens, we do one concert with them and that's it.'
Not that they're asking for identical interpretations from different guests. 'We're also looking forward to feeling the different sensibilities the various extra Schubert players bring,' adds second violinist Loïc Rio. 'As I don't play in the "Trout" Quintet I can be a privileged listener, and it's really interesting to watch the others playing with pianists who are different from each other.'
This article was published in the February 2021 Modigliani Quartet issue

The French ensemble on directing festivals, the challenges of performing Schubert and the benefits of collaboration. Explore all the articles in this issue . Explore all the articles in this issue

More from this issue…