Committed playing in an all-too-rarely recorded cycle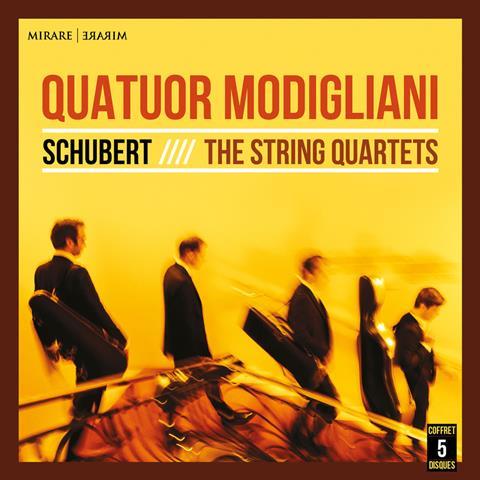 The Strad Issue: April 2022
Description: Committed playing in an all-too-rarely recorded cycle
Musicians: Modigliani Quartet
Works: Schubert: Complete String Quartets
Catalogue number: Mirare MIR 588 (5 CDs)
As far as most music lovers are concerned, there are three-and-a-bit Schubert string quartets – the trio of magnificent works he composed towards the end of his life, plus the single-movement Quartettsatz of 1820. Perhaps that's not a surprise, as the eleven quartets he created during his teens are a ragtag collection, owing more to youthful ambition and experimentation than to single-minded development of the form. While Schubert's symphonies of the same period display an emerging maturity and individuality even as they wear their influences rather obviously, there is little in the quartets of the same period that displays a similar level of assurance, for all that the evolution in the young composer's confidence, command and character is palpable as they progress.
Accordingly, these early works are conspicuous by their almost complete absence from concert programmes, and usually only turn up on disc as necessary components in 'complete quartets' projects such as this one from the Modigliani Quartet. The appearance of all 15 works in a single slimline box from such an estimable ensemble, too, is long overdue. In addition, Mirare provides an ideal soundstage (in three venues in France, Switzerland and Germany), allowing enough space around the four players for the sound to bloom but coming in close enough that each individual instrumental line is heard with due clarity. Combine that with these players' fastidious attention to Schubert's markings and you have perhaps the finest possible case for these all but forgotten works.
It's in the mature quartets that any new recording comes up against stiff competition. While nobody is likely to be disappointed with the Quartettsatz, 'Rosamunde', 'Death and the Maiden' and G major quartets as presented here, some will have preferences for recordings that achieve greater intensity in the faster music or that more uncannily distil the enigmatic ambiguity of certain slow movements. The Modigliani players hardly put a proverbial foot wrong but their tendency is to open with a feeling of correctness and restraint, before allowing the music off the leash to build to its emotional peak. The A minor's Menuetto can feel more forlorn than this, the D minor's opening more furious, the 'Death and the Maiden' variations more otherworldly – for all the unanimity of articulation and hushed tone lavished upon the viol-like opening phrases of this celebrated movement.
The G major, though, is a triumph from start to finish, instantly pitching the listener into the emotional turmoil of the opening Allegro's major–minor vacillations and laying bare the harrowing nervous disintegration of the Andante. Lovers of these epoch-making and influential late works will have their favourites among the many recordings available but, for the whole story, the Modigliani Quartet proves an authoritative guide.
DAVID THREASHER