Tim Homfray hears the performance of Haydn, Neuburger and Beethoven at London's Wigmore Hall on 7 June 2023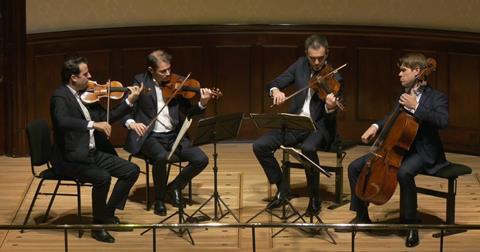 The Modigliani Quartet, 20 years old this year, opened with a lively account of Haydn's G major Quartet op.54 no.1. Its playing of the first movement was bright, brisk and colourful, and in the Allegretto the quiet playing of leader Amaury Coeytaux over metronomic quavers blossomed into rich, full sound. Cellist François Kieffer provided a fine, shapely quaver obbligato (and a smile) in the Trio of the Menuetto, and the players captured Haydn's humour in the vivacious finale.
In the UK premiere of Jean-Frédéric Neuburger's High altitude the Modigliani's glistening, vibrato-less playing in the opening high chorale impressed; Wolf's Italian Serenade was filled with irrepressible high spirits.
After the interval came a remarkable account of Beethoven's B flat major Quartet op.130. The first movement was as often delicate as it was robust, with a strong narrative line running through its many abrupt stops and starts. After the lightness and bustle of the Presto, the Andante con moto offered a graceful, urbane conversation. The Alla danza tedesca had an easy flow (without exaggeration of the hairpins) and the Cavatina was sublime. The players opted for the original Grosse Fuge finale, which had impressive contrapuntal clarity amid the fire of the opening section – played with ferocious energy – spectral playing in the meno mosso section and fervent intensity to follow. It was an astonishing performance.
TIM HOMFRAY