This extract from the November 2021 issue explores the importance of listening to Black colleagues' perspectives without being judgemental or defensive, and how institutions must engage with communities at grassroots level to instigate progress in representation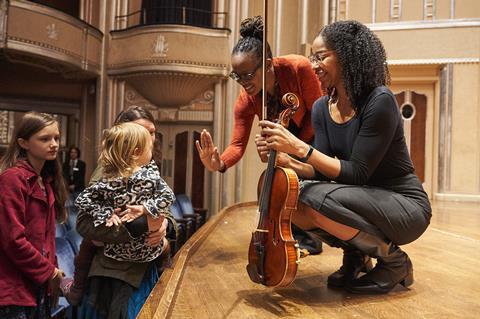 The following extract is from The Strad's November 2021 issue feature 'Black America: A Race For Change'. To read it in full, click here to subscribe and login. The November 2021 digital magazine and print edition are on sale now
Discover more Featured Stories like this in The Strad Playing Hub
Building a more inclusive and accessible classical music space does not, of course, mean that black musicians will automatically pursue musical careers. According to the National Guild for Community Arts Education, numbers of black children enrolled in community music schools are now far closer to population representation, but disproportionately few continue into higher-level training. To overcome this issue, Afa Dworkin recommends that institutions partner with existing grassroots and community-based initiatives, to improve support networks, create a more equitable space and build up a sense of belonging and empowerment for young artists. Sphinx, for example, nurtures and prepares its musicians for professional life by hosting competitions and intensive training programmes, making them part of a close community, and supporting them through partnerships with more than 200 organisations globally.
It is also vital to hear black colleagues' perspectives, without being judgemental or defensive. Conversations may not always be comfortable, especially when they're with people from older generations scarred by times when 'playing the violin at the level of any of the premier players in the world wasn't enough to get a comfortable foothold in the profession', says cellist Astrid Schween. 'I can certainly understand why an artist who has met obstruction at every level would feel angry.'
Conversations may also be uncomfortable for what they expose about everyday micro-aggressions experienced by black musicians from 'people who are well-meaning but don't realise what they're saying', says violinist Sanford Allen. Bassist Joseph Conyers finds it particularly upsetting when people ask him about what he has been doing to help 'his people' in the field of classical music. 'Are we not all fellow Americans?' he asks. 'Am I supposed to be helping "my people" because I'm black?' People of every colour, he stresses, and especially those in positions of power, need to work together to create change.
Another regular antagonism centres on jazz. Violinist Randall Goosby elaborates: 'If somebody comes backstage after a concert and says to me, "That was wonderful. Do you play jazz?" it invalidates the hour's worth of classical music that I just played. It puts black people in a box and makes them question whether they're meant to be playing classical music, or whether people would be happier if they played jazz, like everyone thought they should.'
If somebody comes backstage after a concert and says to me, 'That was wonderful. Do you play jazz?' it invalidates the hour's worth of classical music that I just played
However much Allen, Schween, Conyers, Nelson and Goosby like jazz, none appreciates being categorised in this way. 'We have to fight a history and a legacy of stereotyping and making presumptions about what kinds of people like what kinds of things,' says Schween. Conyers has even been told that music must have 'kept him off the streets', by 'well-meaning people who don't realise that what they said is completely ignorant and unbelievably offensive. They have reached their conclusion based on the narrative that society has created for a whole class of people, which is not the truth about me or my life experience.'
The more that musicians of every colour talk to each other and hear each other's perspectives, the more progress will be made. That is why it is so important to keep conversational channels open and to act on our findings, not only when it's trendy, as it is now, but always. 'People succeed to a greater or lesser degree, but I'm not bothered by a failed attempt,' says Allen. 'I'm bothered by no attempt.' We all need to double down and assume that we're not doing enough, says Dworkin, until the statistics in classical music reflect diversity levels in society at large. Making meaningful change means taking risks and perhaps even offending people from time to time. If that happens, learn from your mistakes, apologise and move on, says Nelson, but never stop trying.
This article was published in the November 2021 Chad Hoopes issue

The US violinist on making unconventional career choices, and sharing his knowledge with the next generation of players. Explore all the articles in this issue . Explore all the articles in this issue

More from this issue…