The violinist, who was the original dedicatee of Beethoven's Violin Sonata no.9, lived most of his adult life in Peckham, south London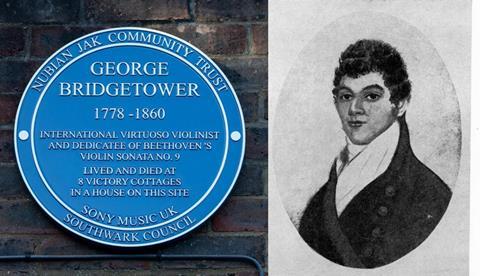 Read more news articles here
A blue plaque commemorating Black violinist George Polgreen Bridgetower has been installed at the site of his former residence in Peckham, London.
The plaque was unveiled on 11 October, the date on which Bridgetower was born in 1778. It is located at Jack Jones House, which is now a retirement home, on Reedham Street. It is unclear as to what brought Bridgetower to Peckham specifically, but he lived most of his adult life in the area.
The plaque was set up by the Nubian Jak Community Trust, a scheme that highlights the historic contributions of Black and minority ethnic people in Britain, in conjunction with Southwark Council and Sony Music.
The plaque reads: 'George Bridgetower 1778 - 1860. International virtuoso violinist and dedicatee of Beethoven's Violin Sonata no.9. Lived and died at 8 Victory Cottages in a house on this site.'
Local musician Tara Jettoo became familiar with the Bridgetower's story after working at the Bath Royal Literary and Scientific Institution. She had previously started a petition to have a blue plaque installed at the Bath Assembly Rooms, where Bridgetower performed as a child. Jettoo inspired Dr Jak Beula, CEO of Nubian Jak, to put Bridgetower forward for a blue plaque in Peckham.
Born in Biała Podlaska, Poland, Bridgetower started playing the violin at an early age, his virtuosic talent becoming evident throughout his childhood. His father John Frederick Bridgetower (of West Indian descent) was a servant of Joseph Haydn's patron: the Hungarian Prince Esterházy.
Not long afterwards, Bridgetower moved to London, and was performing as a violin soloist at the Drury Lane Theatre by the age of ten. He played extensively around the UK and London, including at the Bath Assembly Rooms, Haymarket Theatre and Covent Garden. In 1791, the future King George IV took an interest in him and oversaw his musical education. Bridgetower's father took him on a tour of Europe, where the young violinist enjoyed celebrity status.
Bridgetower met Beethoven in Vienna in 1803. Impressed by the violinist's abilities, Beethoven dedicated his Violin Sonata no.9 to him, inscribing on the work with the words: Sonata mulattica composta per il mulatto Brischdauer, gran pazzo e compositore mulattico - roughly translated as 'Mixed-race sonata composed for the mixed-race Bridgetower, great madman and mixed-race composer'.
Beethoven withdrew his dedication of the piece from Bridgetower, after the pair had an argument about one of Beethoven's female friends. Beethoven then dedicated the piece to Rudolphe Kreutzer, who never went on to play the piece, deeming it unplayable.
Bridgetower moved back to England and was elected to the Royal Society of Musicians in 1807. He received a bachelor of music from Trinity Hall, Cambridge in 1811. Bridgetower performed in the inaugural London season for the Royal Philharmonic Society, leading a performance of Beethoven's String Quintet.
Falling into relative obscurity in his adult years, Bridgetower continued his musical career teaching and performing, and married Mary Leech Leeke, with whom he had a daughter. Bridgetower died in 1860 at his residence in Peckham.