Ruth Rogers, leader of London Mozart Players, talks about the orchestra's new music video Letters from Burma, streaming this Refugee Week to raise money for Myanmar refugees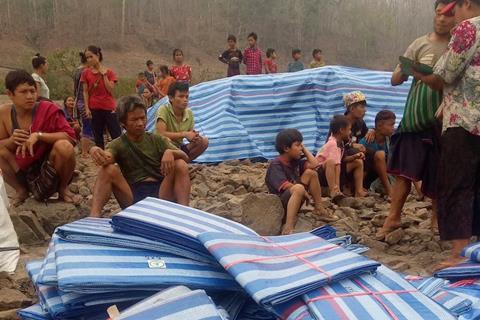 At the start of the year, I was lucky enough to be filmed playing Roxanna Panufnik's Four World Seasons with the London Mozart Players for our recent series of online concerts. This series helped our players to stay active during lockdown and to start to generate income for musicians, desperate to work again. At the session, Roxanna, who is LMP's Inaugural Associate Composer, happened to mention that she had rescored Letters from Burma for orchestra, a piece originally written for string quartet and oboe, which I had played years ago at a charity fundraiser. At the first mention of Burma, my ears pricked up.
I had been to Thailand in 2008 to play for Burmese refugees on the Thai-Burma border. It was an overwhelming experience, visiting a refugee camp which has been there for 20 years to provide a 'temporary' home for 50,000 people. This February, we have all been shocked by the news of the military once again seizing power in a coup and launching a brutal crackdown. Who hasn't seen the images of protestors calling for their democratically-elected leader to be reinstated, or nuns with outstretched arms beseeching the military not to shoot? Aung San Suu Kyi has been returned to house arrest, and has only been seen once since the coup began. I can hardly believe that Burma has returned to such turmoil again, after all the progress of the last decade. It is shocking, bewildering and incomprehensible.
My brother, Benedict Rogers, is a political activist (he works as Senior Analyst for East Asia at the human rights organisation CSW) and writer, who has published several books on Burma. In many ways, we couldn't be more different. He monitors human rights abuse – he has been blacklisted and deported from Hong Kong – and I play the violin. But going to Burma that year gave me an extraordinary insight into his life. When Aung San Suu Kyi visited the UK for the first time in 20 years and was invited to the House of Lords, I was asked to organise an orchestra to play for her in Westminster Hall. Aung San Suu Kyi is known to have played Pachelbel's Canon on the piano under house arrest, though she is modest about her musical abilities. Meeting her on that occasion, I was struck by her dignified elegance, and how her tiny, fragile figure commanded respect.
When Roxanna mentioned Letters from Burma, all these memories flooded back. Roxanna's piece is directly inspired by Aung San Suu Kyi's collection of letters by the same name. I approached our Executive Director Julia Desbruslais about the idea of filming the orchestra performing Roxanna's profound and insightful piece to create awareness of the humanitarian crisis in Burma and raise money for the refugee charity Advance Myanmar.
We asked every musician individually whether they would support this cause, and along with oboe soloist Olivier Stankiewicz, all agreed to offer their time for free. After a year in which concert halls have remained mostly closed, leaving musicians helpless and feeling redundant in the pandemic, this is one project to have given us a renewed sense of purpose, an amazing feeling that we are all steering the ship together. All the new experience LMP has gained over the past year by streaming our concerts – launched first at Westfield Shopping Centre, initially for free, and then behind a paywall from St John's Smith Square – has been the perfect dry run for filming Letters from Burma.
Three weeks ago, we assembled again at St Martin-in-the-Fields to record Roxanna's piece. Ben came to the session to remind us of the humanitarian crisis in Myanmar – tens of thousands of people are displaced by military attacks, almost 900 people have been killed and 5,000 remain in prison. Ben introduced the players to some Burmese refugees who explained their stories. Any feelings of hardship in lockdown melted away hearing about the pain and suffering of relatives shot and families fleeing in fear of their lives. Our Burmese guests explained that they cannot have any contact with their families for fear of compromising their safety. It is always important to have perspective and our worries paled into insignificance beside these first-hand accounts. There was a huge sense of camaraderie as we took up our instruments and a wonderful feeling that we were doing something that really mattered.
Roxanna's piece is divided into four movements, including Thazin, inspired by the Burmese orchid, a romantic national symbol, Kintha Dance, based on a national sword dance, and Aung-ze-Paing-ze, based on a traditional Myanmar folk song about the power and valour of the King. The most moving is the second movement, Young Birds Outside Cages, from the letter of the same name by Aung San Suu Kyi:
'Throughout the years of my house arrest my family was living in a free society [England] and I could rest assured that they were economically secure and safe from any kind of persecution. The vast majority of my colleagues who were imprisoned did not have the comfort of any such assurance. […] Political prisoners have to speak to their families through a double barrier of iron grating and wire netting so that no physical contact is possible. The children of one political prisoner would make small holes in the netting and push their fingers through to touch their father. When the holes got visibly large, the jail authorities had them patched up with thin sheets of tin. The children would start all over again trying to bore a hole through to their father: this is not the kind of activity one would wish for any child.'
Read Violinist Ruth Rogers' blog from the Thai-Burmese border - Part One
In this second movement, the oboe solo becomes the child, with a bird-like melody, while the orchestra plays strong hard chords like the bars of the cage. Roxanna's compositions are always colourful and evocative and this one is no exception. Her music sounds so free and I was struck by the irony that freedom is exactly what the people of Burma are longing to have.
Where once she was a symbol of resilience and hope for democracy, the Nobel Peace Prize winner has not been able to live up to expectations, with her reputation now tarnished by the treatment of the displaced Rohingya people.
Today, Aung San Suu Kyi is once again held in an undisclosed location, cut off from everyone and everything. Letters from Burma once more takes on the same poignancy as when she was first under house arrest. As I write this, to announce that our Letters from Burma concert will be streaming from next week for Refugee Week, word has just reached us that Aung San Suu Kyi will stand trial at the same time. It would be so amazing if Aung San Suu Kyi got to see our musical offering. My biggest hope that people in Burma will see it and know that they have not been forgotten. We stand by their sides in solidarity and long to hear good news about their country. There must always be hope.
Letters from Burma is free to view at https://www.londonmozartplayers.com/letters-from-burma/
To read more about Advance Myanmar, click here