Chi-chi Nwanoku argues that students need to be more realistic about their career expectations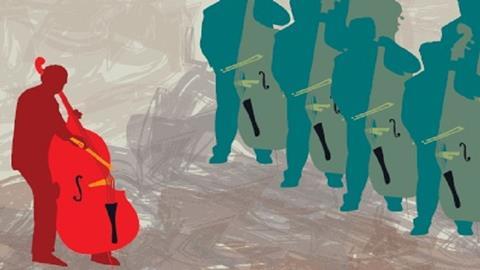 When I was a conservatoire student, orchestra was very high on the agenda for young double bassists, and took priority. It was emphasised as more important than the solo repertoire. But now I notice the balance has swung completely the other way.
There are even double bass teachers in conservatoires who don't play in orchestras any more. Their students learn high-level technique for solo playing, yet in my experience many don't have the tools to apply that technique intelligently to orchestral parts.
I was the bass tutor for this year's I, Culture Orchestra, an ensemble of young musicians from eastern European countries, such as Poland, Ukraine and Armenia. For the first-round auditions, the bassists had to upload videos of themselves playing the first movement of a major concerto as well as several orchestral excerpts.
These included Beethoven and Mozart symphonies – standard pieces that they would definitely come across in their professional life. The contrast in performances was shocking: the musicians had clearly studied their solo works to a very high level, but they were prepared to commit examples of their orchestral prowess to video that were rhythmically totally unrecognisable. I wondered if they'd dared to bring their excerpts to their teachers.
Later, when I started to work with the musicians in the orchestra, it was clear that there was nothing they couldn't master technically, but they were dysfunctional as a section, in terms of understanding how to listen and blend, and how to lead and follow.
I've had similar experiences in the UK, a country with a strong youth orchestra tradition. At the Orchestra of the Age of Enlightenment we run a scheme for young players. We've auditioned bassists who were brilliant soloists but who showed minimal knowledge about the music that the orchestra would be playing. In my opinion, such players are simply unprepared for auditions.
I find that young players often fall down on their harmonic understanding. Harmony is what makes me want to listen to music – for me, it's the most important element. I make a habit of learning all the parts on the piano, so when I'm playing my bass-line, I will know what harmony is going on around it. This makes the overall playing experience more fulfilling. In an orchestra, you can't just focus on your line. It always has to refer to something else – it is only a part of the whole.
Conservatoire bass teachers have a responsibility to teach more orchestral repertoire. What's realistic for their students when they leave college? They're not all going to be soloists, by any means. If you're educating someone, you need to give them the widest and most realistic musical experience possible. And I believe that the best music for our instrument is not necessarily the solo repertoire but in orchestral and ensemble works – the most complete and compelling music, such as Beethoven and Brahms symphonies and Strauss tone poems.
When orchestras audition bassists, they want to hear a bass concerto (even though the chosen player will almost certainly never go on to play a concerto with that orchestra) but I find it strange that some major orchestras, especially in the US, also demand a movement from a Bach cello suite. Why should an aspiring orchestral bassist have to audition with a solo piece that wasn't even written for the bass? We have enough bass repertoire to show off someone's command of the instrument.
When I was working with the I, Culture Orchestra, someone told me that in some of the countries involved, young musicians are deemed to be failures if they have to get a job in an orchestra and don't become soloists. If that's true, I fear for those musicians and find it sad. Just take note of some of our great bass soloists, such as Edicson Ruiz in the Berlin Philharmonic, HŠkan Ehrén, principal bass of the Royal Stockholm Philharmonic, and Rinat Ibragimov, principal bass of the London Symphony Orchestra. All get their widest playing experience from within the orchestra. There are ample technical demands in most varied orchestral works.
Playing bass-lines isn't demeaning: it's empowering. It's almost as though we have the melody, harmony and rhythm in our hands – as well as the bass part. Some players and teachers need reminding of that.
This article was first published in The Strad's November 2012 issue. Click here to subscribe or login. Alternatively, download on desktop computer or through The Strad App.
Interview by Peter Somerford
Read: Too few conductors understand their double bass section