The violinist shares how passion for chamber music at an early age has inspired him to bring the repertoire to new audiences as artistic director of the upcoming Boscobel Chamber Music Festival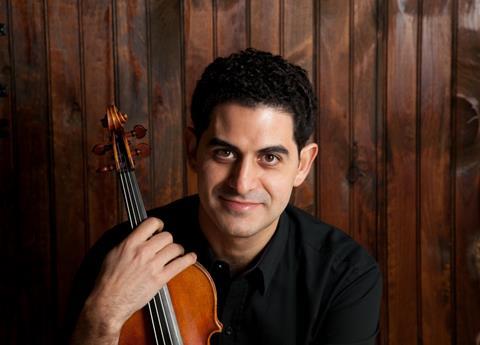 Explore more Featured Stories like this in The Strad Playing Hub
I have been playing chamber music for more than 25 years and my love and passion for this art form only grows stronger day after day. When I was 13 years old, a friend of mine asked if I would join him and a cellist to play piano trios. This was my first time experiencing the power of chamber music and it shaped my musical life forever. We worked on the Mendelssohn D minor trio and Shostakovich trio no. 2 - every time I come back to these pieces, I think of my friends and the amazing experiences we shared as teenagers.
I find such purpose and pleasure in sharing and creating a musical experience on stage with other musicians. In a chamber ensemble, one has to be able to follow and lead at the same time. One of the most important aspects of playing chamber music has to do with how well you listen to your colleagues and how quickly you can respond to their musical ideas.
I find such purpose and pleasure in sharing and creating a musical experience on stage with other musicians
The chamber music repertoire is vast and rich, and the depth of emotions and beauty in the music keeps us ever so inspired and curious. The experience that musicians and audiences share during a performance can be transformative. I've met countless audience members after a performance who are so genuinely thankful and grateful towards the musicians. And it is without a doubt a shared feeling - the concert experience would not be the same without this connection between performers and audiences. It is very hard to put it into words, but there are certain performances where everyone in the room seems to be transported into a different world.
The inaugural Boscobel Chamber Music Festival will take place this September on the gorgeous grounds of Boscobel House and Gardens, overlooking the Hudson River. It is so thrilling (and nerve-racking!) to start a brand new festival; I'm particularly excited about the idea of bringing world-class chamber music and chamber musicians to the wonderful local community. The Emerson Quartet will launch the festival on 3 September with the first US performance of their farewell season. Another highlight of the festival will be our Labor Day lawn concert on 5 September - we will present the great clarinet quintets of Mozart and Brahms.
We strongly believe in education and we will be visiting various schools in the area for outreach performances. We also have plans for pop-up performances at the local farmer's market, open rehearsals, as well as a family concert on 11 September. The goal is to enrich this already vibrant community on the Hudson Valley, through our concert programmes, through the incredible richness of the music and, most of all, through our amazing musicians. I hope this new festival will attract people from all walks of life and will provide a source of light and inspiration to all.
I'm so looking forward to sharing my passion of chamber music with the local community - here is to a successful inaugural Boscobel Chamber Music Festival!
Arnaud Sussmann is the artistic director of the Boscobel Chamber Music Festival, which will take place 3-11 September 2022. More information can be found here. He is also co-director, Music@Menlo's International Programme.