Samantha Ege offers her insights working with Castle of our Skins on their programme of chamber works from the African continent and diaspora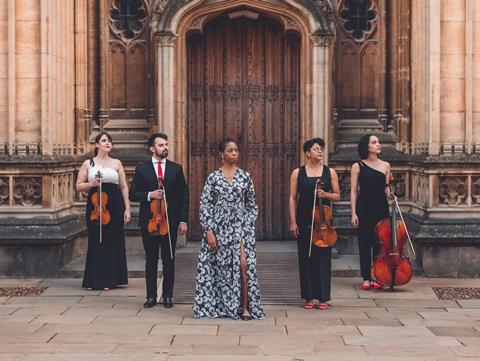 Discover more Featured Stories like this in The Strad Playing Hub
'This isn't supposed to be easy,' says violist and Castle of our Skins founder Ashleigh Gordon as we rehearse the second movement of Bongani Ndodana-Breen's Safika: Three Tales of African Migration for piano quintet. In this piece, South African composer Ndodana-Breen draws upon personal narratives of Black dispossession and translocation in his homeland.
'Safika' means "we arrived" in Xhosa and Zulu. It is a powerful work, brimming with an array of idioms belonging to both African and European musical traditions. The combination of the strings and piano lends itself well to Ndodana-Breen's medley of musical ideas. But the harrowing history of apartheid underpins this work. And so, as we rehearse the second movement, which begins with deceptive simplicity, characterised by slow-moving, sustained call-and-response passages, then adopts a more frenetic energy with writing that is easy to get lost in, Ashleigh puts it all into context. She reminds me and the rest of the quintet, comprising violinists Gabriela Díaz and Matthew Vera, and cellist Francesca McNeeley to embrace the challenges of the music and, in doing so, we come closer to paying tribute to the lives and legacies of those who inspired Ndodana-Breen's composition.
Safika is the first work on my new album with Castle of our Skins, called Homage: Chamber Music from the African Continent and Diaspora on the Lorelt record label. Castle of our Skins is a Boston-based educational series, which carries the mission to celebrate Black artistry through music. The Castle of our Skins string quartet concertise widely across the United States, championing names of the past like Florence Price and Samuel Coleridge-Taylor, as well as contemporary composers such as Ndodana-Breen and Hannah Kendall. What captivates me about Castle of our Skins' performances is the way that even the most unfamiliar repertoire becomes familiar due to the storytelling power of their programming.
As a concert pianist and historian, I am drawn to the music and stories of lesser heard voices in classical music. Florence Price, Margaret Bonds, and the wider network of Black American women composers and musicians in the first half of the twentieth century reflect my main area of interest (my two previous albums were Fantasie Nègre: The Piano Music of Florence Price and Black Renaissance Woman: Piano Music by Florence Price, Margaret Bonds, Nora Holt, Betty Jackson King & Helen Hagan). But performing and recording with Castle of our Skins has allowed me to delve deeper and learn even more about the contributions of African-descended composers. Our album, Homage, pays tribute to this incredible history.
Ndodana-Breen's Safika, Undine Smith Moore's Soweto for piano trio, and Frederick C. Tillis' Spiritual Fantasy no. 12 for string quartet form the cornerstones of Homage. As an African American composer, Moore's Soweto does not reflect the kinds of indigenous African ideas we hear in Safika. Instead, it is an emotional response to the horrors of apartheid. Clashing harmonies and battling instrumental parts characterize the first two movements. The third movement, however, is incredibly lush and lyrical. I love how the violin soars into the most stirring melody as the cello brings a velvety richness with its countermelodies. Tillis' Spiritual Fantasy no. 12 is such an engaging suite. Each of its four movements are based on a Negro Spiritual and reflect Tillis' classical and jazz training. We hear the strings in a variety of sound worlds, from the folk fiddles of plantation songs to the walking bass of the blues and the expressionist dissonance of the modernist era.
To reiterate Ashleigh's earlier comments, preparing this music wasn't always easy – and it wasn't supposed to be. Safika and Soweto certainly pushed me to new levels of expressivity and communication as a chamber musician. Though many of the pieces on Homage will be unfamiliar to the majority of classical music lovers, the themes of fortitude, resistance, and hope will resonate deeply. We are excited for listeners to immerse themselves in the music and take this journey with us.
Homage: Chamber Music from the African Continent and Diaspora will be released on Friday 28 October 2022 by Lorelt. Ege will perform Helen Hagan's Piano Concerto in C Minor (arr for two pianos) and Florence Price's Piano Concerto in One Movement (arr for two pianos) with Artina McCain at the Milton Court Concert Hall, Barbican on Tuesday 29 November at 7:30pm.