Robert McDuffie reflects on the challenges of works by John Adams, Philip Glass and John Corigliano ahead of his album release on 4 November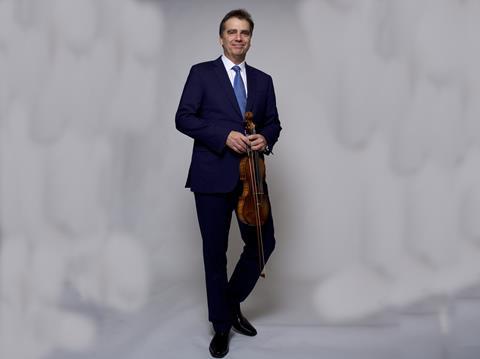 Explore more Featured Stories like this in The Strad Playing Hub
Many people often lump Glass and Adams together when speaking of the minimalist style - a description both composers reject. They could not be more different in style or personality. I'm fortunate to know both composers - in fact I've performed Adams's concerto with him conducting, and Glass wrote his second violin concerto for me.
I chose all three composers for my new album ICONS because I love their music. When Glass composed his sonata in 2008, he was in love with a string player. That wasn't lost on me, and it was tempting to over-romanticise this work. But if you colour outside the lines with Philip's music, you miss the whole point. Glass's genius is that you can interpret his achingly beautiful music and still be faithful to metre. John Adams signed my copy of Road Movies and wrote, 'Take this four wheel drive out for a spin'. It was a joy and a rhythmic challenge to learn. Corigliano's sonata has been a standard in our repertoire for almost 60 years and has been in my inner ear since my Juilliard days. His sonata is meaningful to me because of the 'American Optimism' that permeates this piece. Its a big and muscular work, filled with hope and beauty.
My takeaways from working with Philip Glass is that he is faithful to rhythm, metre, pacing and dynamics. He's not a string player, therefore he never tried to get in the weeds with technical aspects of the violin. But he easily wrote for the voice, and I always felt he just 'expected' me to sing his music through my instrument. Before I recorded his first violin concerto with the Houston Symphony, he advised me to remind the triangle player to be extra aware of the syncopated figures in the third movement. Gidon Kremer had recently recorded the concerto with the Vienna Philharmonic, and Philip refused to listen to it again because the Vienna triangle player had derailed. I'm happy to report, the Houston recording is perfect, at least rhythmically!
Each work on this album has its own challenges. The Glass sonata provides ample opportunity to create beauty, but without losing an unwavering commitment to a strong and consistent pulse. The Corigliano sonata is fiendishly difficult. Mastering the technical challenges was not as daunting as I feared, because I knew It was composed from the heart and dedicated to his violinist father. That added dimension made the learning process more personal to me. Road Movies provided the greatest test for me. While the second movement is quiet and reflective, John throws everything at you in the outer movements. It was the ultimate adventure for Elizabeth and me as we navigated every quirky accent and rhythmic and harmonic surprise at every corner. It took a while, but we locked it in, and it was exhilarating to learn. Playing Road Movies is like solving a Rubik's Cube while dancing at the same time.
Violinist Robert McDuffie and pianist Elizabeth Pridgen's new album ICONS: John Adams, Philip Glass and John Corigliano is due for release on Orange Mountain Music on 4 November.