The Strad's editor Charlotte Smith introduces the September 2020 issue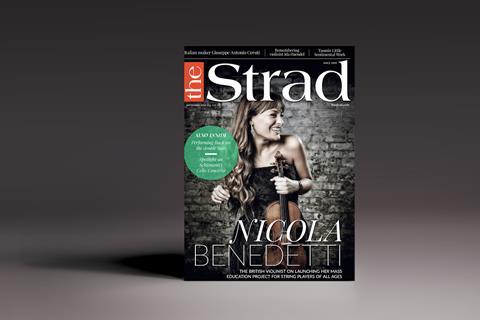 How do you run a mass educational project during a once-in-a-lifetime pandemic? When British violinist Nicola Benedetti launched her first Benedetti Sessions at the beginning of 2020, little did she foresee the closure of concert halls and ban on gatherings that would shortly take place around the world. In January, the intrepid mentor dedicated two weekends to group learning in London and Glasgow. The events were attended by several thousand string players of all standards and ages, as well as their teachers – a key to Benedetti's educational ethos, which promotes musical advancement through participation and sharing.
By the time of the March programme in Dundee it was evident that the rest of the year's meetings – in Antrim, Manchester and Saffron Walden – would be cancelled. Undeterred, Benedetti and her tight-knit team sprang into action, rebranding her events as Virtual Sessions and attracting over 7,000 participants. These culminated in an uplifting Grand Finale at the end of May, featuring hundreds of young musicians in videos recorded from their homes. On page 28 Peter Somerford shares his experiences of the live Benedetti Sessions in January, and speaks to the violinist about pulling off her ambitious digital feat.
May also saw the release of Benedetti's recording of Elgar's Violin Concerto with the London Philharmonic Orchestra – a notoriously challenging work memorably committed to album by Ida Haendel. The larger-than-life Polish-born violin prodigy died in July at the grand age of 96 after a glittering career that saw her tour the globe and provide advice and support for many of today's top players. On page 24 Tully Potter surveys the life of one of the true greats of the profession.
As we enter the latter part of this most memorable of years, thoughts invariably turn to what might be in store for 2021. Released this month, The Strad Calendar for the coming year features instruments from Norway's Dextra Musica Foundation, including works by Vuillaume, Bergonzi, Guadagnini, Guarneri 'del Gesù' and, of course, Antonio Stradivari. John Dilworth surveys the collection on page 64 – remarkable for the fact that each of its instruments is in daily use.
Charlotte Smith editor
Email me at thestrad@thestrad.com or tweet @TheStradMag