'The devil's fiddler' explains why Monti's Csárdás has been a mainstay of his repertoire since the earliest days – and why it still brings out the creativity in him and his collaborators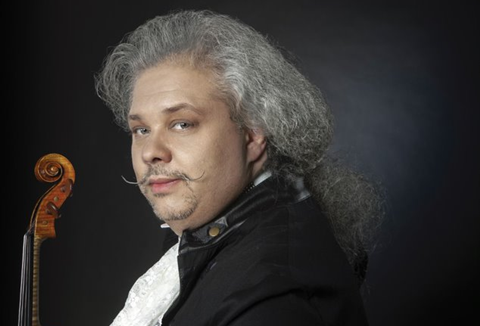 Vittorio Monti's Csárdás is a magical piece, and one that's been with me almost since I started playing the violin. I first performed in public when I was six, and just a year later I was playing Csárdás. Every time I've played it since then has been different! It's a perfect piece for improvisation, and it always brings joy to any audience that hears it. When I was 16 years old and studying at the Béla Bartók Conservatory in Budapest, I entered a competition there and won the first prize. The winner's concert felt strange, though, because even though I'd won, I felt I hadn't won over the audience. They didn't seem interested and I hadn't got a proper connection with them – until I played Csárdás as my encore, when they all went wild! Finally I'd convinced them and it was the biggest success I'd had until then. When I play it now, I can be sure it'll get applause, no matter where I am.
What's strange is that everyone sees this as the perfect example of Hungarian gypsy music – in fact there are three pieces that I'm called upon to play almost everywhere I go: Csárdás, L'Alouette by Dinicu, and Ochi Chernye, 'Dark Eyes'. People associate each of them with me – and none of them is Hungarian! L'Alouette is Romanian, Ochi Chernye a Russian folk song, and Csárdás was made up by Monti, an Italian composer through and through. He was very successful in his day but it's the only work by him that I know, and that almost every other violinist knows – but it's still so popular that if he were alive today, he'd be a multimillionaire, just from this one work!
I always play it with my band, the Roby Lakatos Ensemble, where every member is a brilliant improviser. We keep our ears open and if one of us comes up with something new and interesting, we'll all follow them. With Csárdás, everything is possible – we can play it in a swing style, or in the manner of Miles Davis and audiences will love it. We can even work other classical music into our favourite pieces; and when we played L'Alouette at the Sydney Opera House in 2010, we added a Prokofiev improvisation into the middle section! No one knew we were going to do it, but it worked beautifully.
It's very interesting when we perform Csárdás alongside a symphony orchestra. On those occasions I'll play the second violin part, which I wrote myself, and let the concertmaster play the theme, for everyone else to follow. Orchestral players always say they want to play in the gypsy style, and want to find out from me how it's done – I say with lots of glissando, different kinds of vibrato and varying the tempo, but I think they know something about gypsy style already; besides, they all know Sarasate's Zigeunerweisen!
Of course, if I were teaching Csárdás to someone, I'd tell them they had to learn the original version first of all, and be perfect at it before adding in some creativity of their own. At the moment I'm in Budapest in the middle of the lockdown, which means I have a chance to teach my grandson, who's five and a half. He's started learning the violin even younger than me, so of course I have to teach him Csárdás. I've also begun to organise a lockdown video, performing the piece with other soloists from around the world. It'll have me playing the first 16 bars and then the others will take over, all of them giving their own impression of the work. I think it'll be fascinating to watch, and a project like this really proves what a magical composition it really is.
This article was published in the July 2020 Isaac Stern issue

Celebrating the great violinist's chamber music collaborations in his centennial year – with contributions from Midori, Pinchas Zukerman and Cho-Liang Lin. Explore all the articles in this issue.

More from this issue…