Following the release of The Berlin Album, the latest in Ensemble Diderot's 'cities' recording series, the period group's founder and violinist Johannes Pramsohler speaks to Pwyll ap Siôn about why these works deserve greater recognition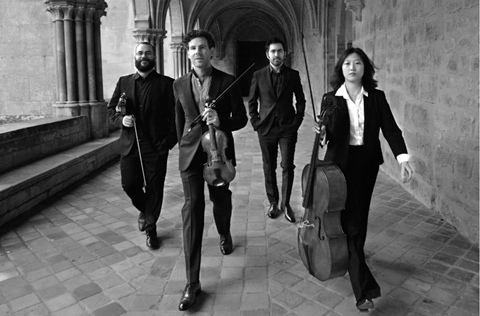 The following two extracts are from The Strad's October 2020 issue in which Ensemble Diderot founder and Baroque violinist Johannes Pramsohler speaks about shedding light on the works of lesser-known 17th- and 18th-century composers. To read in full, click here to subscribe and login. The October 2020 digital magazine and print edition are on sale now.
Bach and Handel – it's difficult to imagine how Baroque music might have ended up without them. Yet have they received too much attention at the expense of other figures? When I suggest to Pramsohler that by championing the works of lesser-known composers Ensemble Diderot is undermining the core repertoire, the established canon of Baroque masterpieces, he raises an eyebrow: 'I don't see it like that. I see it more in terms of explaining and understanding better those known masterworks. Bach's music didn't arrive just like that. He wasn't born a genius. There were other composers around him, including his family. What did he like? Who were his influences?'
History, it seems, has dealt some composers a bad hand. 'I can think of at least one figure,' reflects Pramsohler, referring to Bach and Handel's Czech near-contemporary Jan Dismas Zelenka. 'Had he been defended and promoted at the end of the 19th century, as was the case with Bach through the Bach-Gesellschaft (Bach Society), things would have turned out very differently for his music. Zelenka produced at least as much as Bach, and of arguably the same quality. We just don't know his music nowadays anywhere near as well as we know Bach's. It's a kind of history by Darwinian selection. It's been crueller to some, kinder to others.'
Rather than judging a work according to its composer (following the argument that goes along the lines of 'It's by Mozart, so it must be good'), we should consider a piece of music on its own merits, regardless of who wrote it, maintains Pramsohler. 'It's so easy to put a label and price tag on a composer,' he says. 'It's like looking for wine in the supermarket that has a golden sticker on it. It doesn't necessarily mean that it's any good. People often come up to us after concerts wanting to buy one of our CDs. We'll ask, "Which one would you like?" and they'll say: "The one that won the award."' He shrugs in despair.
…………………………………………………………………………………………………………………………………………………………………………………………………………………………………….
Towards the end of my interview with Pramsohler I'd voiced my curiosity as to why audiences desire the same experience over and over again when there is so much more music to explore. He said: 'Ultimately, I think that performing the same piece over and over will be the death of classical music. But we also have to keep playing the established classics because there will be people out there who have not heard them before. However, I also think it's important to maintain diversity – to show that there were other things going on at that time. To enrich.'
This article was published in the October 2020 Midori issue

The Japanese-American violinist on performing contemporary music, recording Beethoven and dedicating herself to social causes. Explore all the articles in this issue.

More from this issue…