After twelve years together, playing and recording from memory were key to an exciting rebirth for the Chiara Quartet, writes cellist Gregory Beaver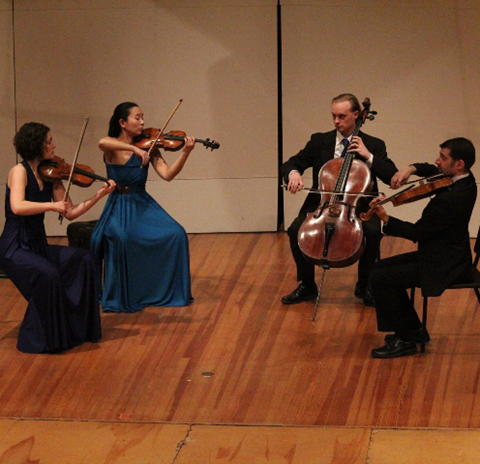 Explore more Featured Stories like this in The Strad Playing Hub
Recently, the Chiara String Quartet has begun to perform most of our works by heart. In many ways, this has been the best thing we've ever done. When we first decided to give this idea a go, we had been playing together for twelve years. We'd done the competition thing, been in residence at the University of Nebraska-Lincoln for nearly seven years, played a Beethoven cycle, had a recording nominated for a Grammy, and yet something important was still missing. Rehearsals were stressful. We found ourselves bickering over tiny details in an ever-expanding quest for perfection, and in addition, our repertoire per season had ballooned to an unsustainable amount of new music to learn for every programme. To top it off, we had recently recorded all the Brahms quartets and the G major viola quintet with Roger Tapping, a process we carefully took five years to do, but the first edits were a disappointment. It just wasn't what we had hoped for.
So, we sat down and made a hard decision: it was time to scrap our Brahms project, and re-record the whole thing from scratch. Now, we thought, how could our recording rise from its ashes stronger than our first attempt? Our second violinist, Hyeyung, suggested that we knew the pieces so well, we should try to record them by heart this time around. This began our long process leading to today, where we are currently performing Béla Bartók's six string quartets by heart in two programmes at New York's Bargemusic in September and October, and offering our 2015-16 season entirely memorised.
As it turns out, performing a string quartet from memory is a completely different animal from performing a concerto or even a sonata from memory. We have found that in addition to the forms of memory we all use for our solo rep (visual, auditory, tactile, associative), there is a mysterious other form of memory I call 'group memory' for lack of a better term. Group memory is a kind of shared memory of the music, of the feel of playing with one another, and the kinds of liberties and unwritten between-the-lines interpretive things that happen in a performance of a quartet. Unlike the other forms of memorising, group memory cannot be skimped, and everyone must have it absolutely solid for a performance to be a success.
We decided to make the leap headfirst into playing by heart full time because it has completely liberated our group from the shackles that we found ourselves struggling in at the end of our 12th season. We, as individuals and as a group, love to analyse and find the greatest expression of every detail in the score as well as the means to express it on our instruments, but this can get in the way. When rehearsing for a performance to be played by heart, the sheer magnitude of the task has forced us to choose only the really important things to say. In addition, we play far more than we used to, repeating passages many times to solidify our group memory and find the weak spots. Because we are listening carefully, many musical ideas are 'discussed' without words, and our performances seem to lock into the sweet spot much more readily than in the past.
Of course, there are serious drawbacks to this approach! For one, we have to perform a work many, many more times before it reaches its peak potential, and all four of us are playing the whole thing without slips. Scheduling becomes far more important ? we can't schedule something like a Bartók cycle and an all-Beethoven programme in the same week any longer. In addition, a much greater amount of practice time is needed before we even begin rehearsing a piece, and then we need more rehearsal time than we used to. But for us, these drawbacks have turned out to be blessings. I love having to practise even more! Getting to perform well-designed seasons where the repertoire flows from one programme to the next as we travel around the world is yet another joy. Really knowing a piece at the first performance is exhilarating.
This process is not ideal for every group, as the life of a string quartet has many competing interests, and it may not be a silver bullet for everyone. However, for us, it has been responsible for the rebirth of our love of playing together, and we are very excited to tackle our future together as a group known for doing this insane thing that we do. For us, it is all the more wonderful not because of its insanity, but because when we play by heart, we are truly alive as the music soars above the audience without a safety net.
The Chiara String Quartet performs Bartók's String Quartets nos.2, 4 and 6 on 26 September 2014, and nos.1, 3 and 5 on 17 October 2014 ? all from memory at Bargemusic in Brooklyn, New York.
Subscribe to The Strad or download our digital edition as part of a 30-day free trial. To purchase single issues click here.