Aurora Orchestra have become renowned for presenting entire symphonies by memory since 2014. Principal double bass Benjamin Griffiths shares his experiences and unexpected joys of memorising entire symphonic works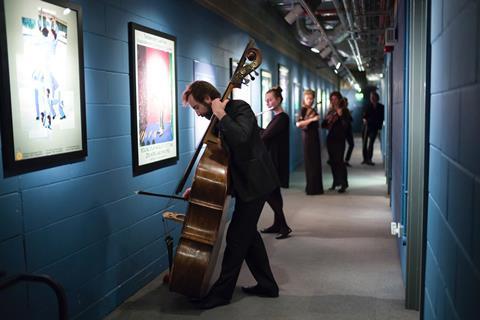 Explore more Featured Stories like this in The Strad Playing Hub
Seven years ago Aurora walked onto an unusually empty stage in the Royal Albert Hall and played Mozart 40 without any sheet music. I will never forget the feeling of vulnerability and nakedness in that moment, seeing the vast audience without a single music stand, item of furniture or piece of music between us and them as protection. It was a pivotal moment in Aurora's story, and the reaction from the audience convinced us: we had created something quite special, and that this was a worthwhile endeavour. Since then we've done ten symphonies and well over 100 performances in this way.
The process of committing a symphony to memory is different for everyone, but time, patience and repetition are at the heart of it. It's worth pointing out that for professional musicians, the works to which we've given this treatment are part of the core repertoire – we've been playing them for most of our lives. The calibre of players that Aurora engages also means that we don't lose too much time solving technical challenges.
My journey starts about six weeks from the start of the project, if it's a new piece (Shostakovich 9, in 2018, was the only one I'd never played before), by finding a recording I like, getting a copy of the bass part, and simply listening to the whole thing. A lot. I'm trying to learn the whole piece, not just the bass line. At this point the idea of being on stage with no music is moderately terrifying. I try not to think about it and remember I've been here before, that we can and indeed have done it: patience is essential.
The piece will have bedded down in my mind after a couple of weeks of listening to it every other day or so. This is where I pick up the bass. I find it useful to start with an already familiar passage and then memorise that, so for Beethoven 5 I begin with the third movement because it's one of the first orchestral extracts you ever learn at college, and every bass player knows it practically from memory anyway. I have good quality speakers so that I can hear clearly, and then I'll start playing it through with the recording, first with the bass part, and then without it. There are plenty of mistakes, but it doesn't matter – the wisdom of past teachers is in my ears: 'if you make a mistake don't worry: carry on, and try not to do it again'. Particularly gnarly passages will require detailed investigation and practice, taking them apart and then putting back into the overall texture so they are just another part of the music rather than 'the difficult bit'.
I'll focus on one movement each day in the weeks leading up to the first rehearsal, and try to be rigorous about practising bits that are shaky or I know will be tricky ensemble moments, but I'll also be playing the piece through in its entirety on most days, by now always without the part; getting someone to listen through and mark where I've gone wrong is also a huge help. As with many things, it's better to do little and often rather than one long session – I find it embeds much more solidly this way – however it's essential not to lose sight of the overall structure.
Some players have it a bit easier than others. It's generally agreed that those who have the inner 'knitting' parts have a bigger hill to climb than most because they're not playing the tune nor are they at either extreme of the sonic spectrum. They also have masses of notes: near the beginning of the second movement of Beethoven Pastoral, the second violins, violas and cellos have 24 notes in each bar compared to one per bar for the basses.
But what is it all for? And is it worth it? Those who have been to our memorised concerts tell us that they have been genuinely transported by hearing familiar, enduring music given freshness and energy, seeing musicians making music with each other rather than with their heads buried in the copy. We've been told of conversions to pieces that people have always disliked. And strange, wonderful things start to happen. You suddenly realise that you know the entire flute part from memory. You notice new things in the piece: how cleverly your part fits with the violas right there, how a previously unheard bit of passagework binds the structure together. Freed from the score, you can look around and communicate with others so much more, and share in – and anticipate - musical moments. There is a great deal of warmth and friendship on stage. There is also a huge degree of trust between the players as well as between us and our principal conductor, Nicholas Collon, who has become expert at navigating us towards the performances. In rehearsal, it can be hard to describe where we're going from when we haven't got the notes in front of us. So Nick started singing where he wanted us to go from. This forces us to reverse engineer a bit – we've all memorised the piece by this point, but only in one direction. Jumping in at a random passage makes you think about the piece in yet another way. 50 musicians will all have gone through different things in the memorisation process, but Nick takes those 50 energies and focusses them into one single beam.
These concerts have been amongst the most exhilarating of my life, and they keep getting better – not least because as with any cerebral exercise even committing a symphony to memory becomes easier and more streamlined the more we do it. But there wasn't much that was easy about Shostakovich 9…
The Aurora Orchestra will be performing Berlioz's Symphonie fantastique at Southbank Centre on Tuesday 27 September at 7.30pm. For more information, click here