The Strad's editor Emma Baker introduces the May 2022 issue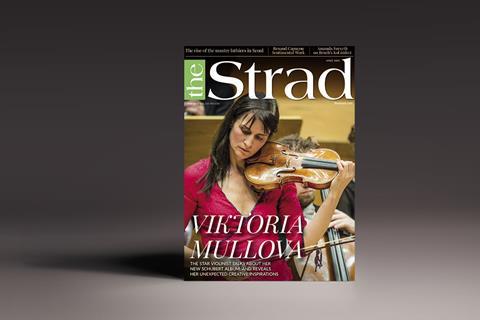 The art of improvisation can seem like an unfathomable mystery to many classically trained string players, but according to Viktoria Mullova it's a skill that, with enough time and hard work, is never too late to learn, as she tells Toby Deller on page 26. But then this remarkable violinist's career can be defined by her incredible resourcefulness, from her brave defection from the Soviet Union in the 1980s, to swapping between two different violins (the 1723 'Jules Falk' Stradivari and a 1750 Guadagnini) during recitals to suit the repertoire. She also talks about her latest recording of Schubert, where she uses gut strings and a classical bow to achieve the perfect blend with the fortepiano, played by Alasdair Beatson. And while this makes the music physically harder to play, Mullova says the resulting sound is 'absolutely wonderful'.
Also in this issue, on page 36 David Hays explores the legacy of the Swedish-born violinist and pedagogue Paul Makanowitzky, best known as a teaching assistant of Ivan Galamian, but who started his professional life as a prodigy soloist before settling in the US. Former pupils from Meadowmount and the Juilliard School recall a fascinating and complex man with impeccable musical taste and fearsomely high standards, and who was central to the development of the American school of violin playing.
And on page 42 luthier Hagit Gili Gluska reports from the other side of the world on the flourishing violin making industry that has sprung up in South Korea's capital Seoul, just in the past few years. Using skills learnt all around the word, this first cohort of makers is now training the next generation of luthiers to meet the growing local demand for high-quality, hand-made instruments, some of which are now competing alongside their peers at the highest levels.
Emma Baker editor
Email me at thestrad@thestrad.com or tweet @TheStradMag
In our regular sections:
In Focus: A 1911 cello by Camillo Mandelli
Trade Secrets: Michael Doran presents his technique for making 'Hill-style' saddles
My Space: Double bass maker George Martin
Making Matters: The secrets of Stradivari's moulds that are hidden in plain sight
Masterclass: Cellist Amanda Forsyth discusses playing Bruch's Kol nidrei
Technique: British violist Martin Outram gives tips on developing bow control
Life Lessons: Astrid Schween, cellist of the Juilliard Quartet, reminisces about her teachers
Opinion: How the fallout from the pandemic has affected practitioners of early music
Postcard from Dublin: A report from Spike, the Irish capital's alternative cello festival
From the Archive: From May 1932
Sentimental Work: Renaud Capuçon on his love of Brahms's Violin Sonata no.1 in G major
This article was published in the May 2022 Viktoria Mullova issue

The violinist discusses her latest Schubert recording with Toby Deller, as well as her collaborative projects with friends and family, and her love of improvisation. Explore all the articles in this issue

More from this issue…