To tie in with the recent release of her new disc, 'Paris', the violinist speaks to us about the ideas behind it, and her long experience of working in Paris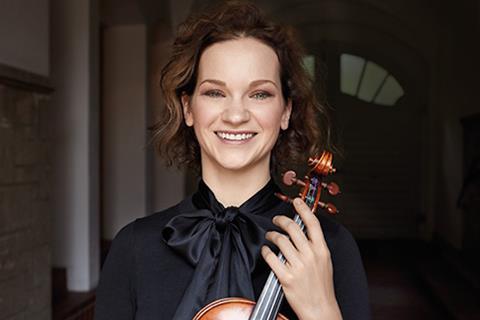 What was the rationale behind this album?
I'd always wanted to play Prokofiev's Violin Concerto No.1 - I just hadn't yet found the perfect moment. Then, in the 2018-19 season, when I worked with the Orchestre Philharmonique de Radio France and Mikko Franck, I noticed that there was a lot of magic happening in our collaboration. It was one of those moments when paths intersect at exactly the right place for everyone. But the immediate driver behind the album was knowing we were going to give the world premiere of Einojuhani Rautavaara's Deux Sérénades together. Both Mikko and I felt it was such a significant work that it would be good to find a way for as many people to hear it as possible.
Can you describe the Sérénades?
It's clear that Rautavaara intended them as the final statement in his body of work. The music is really lush, but while it quotes extensivley from Rautavaara's operatic work it isn't meant to be played in an overtly operatic fashion; you can't push it. If you do manage to stay inside it, and allow it to do its hypnotic thing, then it has an oceanic breadth and momentum. I know someone who was listening to it in her car while it was being aired, and had to pull over because she was so moved. It's that kind of music: if you listen to it for a certain amount of time, it overtakes you.
Can you explain the album's title?
Everything about the album pointed back in some way to Paris. To me, the Prokofiev Concerto has always been a Parisian piece, not least because it came into being in Paris, and is such an example of intercultural artistic expression. Rautavaara wrote his Sérénades for us to perform in Paris. The disc itself came out of an artist residency I did with Radio France in the 2018-19 season. Even my violin was made in Paris. So I guess I'm the only thing about the disc that isn't obviously linked to Paris! But as a touring soloist, I've been going there for such a long time that it does feel like there's a community there that I get to be part of. So perhaps I can be Parisian by proxy.
Watch: Hilary Hahn's two-year-old tells her to 'practise slow'
Watch: Violinist Hilary Hahn performing at the age of 10
Read: Advice I'd give my younger self: violinist Hilary Hahn
How 'Parisian' do you feel?
I think there is an American interpretation of French experience and then I think there is the reality of being here. I love to travel but, as a tourist, I'm always wishing I had something to do that could give me more than just an outside lens on a place: I miss the authentic immersion experience. So I'm glad that, through working in a French speaking environment, I have the honour of being able to see what the reality is.
And what is the reality?
I've been struck by the extent to which thinking, speaking and the sharing of ideas is so integral to the experience of being in France. Everything is built around that: the eating schedule, the work schedule, the way that families organise their days. Something I've noticed is that - although I understand French - people don't always understand me when I speak it, and switch quickly to English. I don't think that's because they think I'm speaking French badly; it's just that they're trying to find the most direct, easiest way of communicating; that's what is most valuable to them.
Does that emphasis on communication transfer to French music?
In music there's a French style of Impressionist music that people who aren't French try to attain. Some people do it fluently and some people sound like they're pretending to be French. But when the Philharmonique orchestra play Chausson, for example, they don't have to play it any particular way in order to find the colours; they just play the notes. I also notice how the instruments in this orchestra have their own distinctive personality, but when they need to work together they do so very effectively. As a soloist with the orchestra, I find that interesting, and I think it's tied to cultural norms around communication.
For more information on Hilary Hahn's new album, click here.