The Strad's editor Charlotte Smith introduces the February 2022 issue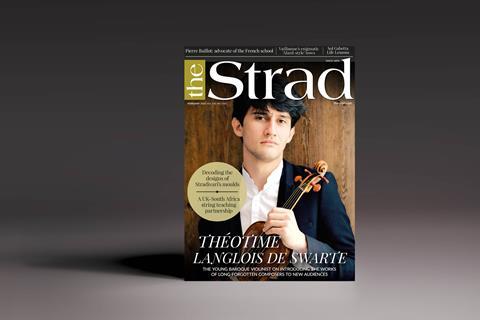 It's not often that a child asks to take up a period instrument. Yet Théotime Langlois de Swarte was – and is – no ordinary musician. Now aged 26, the French artist began his violin studies at four, inspired by the similarity between his bow and the lightsabers of his hero Jedi Knights. But his playful imagination went hand in hand with a maturity well beyond his years, and at the age of nine he decided to learn Baroque violin in order to play chamber music with his elder sister, who was studying the harpsichord. It's this combination of youthful enthusiasm and serious attention to detail that continues to inform Langlois de Swarte's musical choices today, as he works with frequent collaborators including Les Arts Florissants founder William Christie and lutenist Thomas Dunford to bring to light neglected compositions of the past. On page 26 he speaks to Charlotte Gardner about his flurry of recording projects from the past year.
This month's French-themed issue also features an article by Martin Wulfhorst on violinist Pierre Baillot (page 38), who during the 19th century overcame great personal and financial hardship to become a leading instrumentalist, pedagogue and composer of the French school. On page 34 Michel Samson investigates an often-overlooked bow frog innovation by the multitalented violin maker and dealer Jean-Baptiste Vuillaume. Then, on page 98, French violinist Philippe Graffin picks Elgar's Violin Concerto – a piece he discovered at the age of seven – as his Sentimental Work.
Finally, on a personal note, this is my final issue as editor of The Strad and it's been an honour and a privilege to helm such a prestigious title since 2017. For over 130 years the magazine has continued to provide first-rate content and inspiration for the string music world – a testament to its exceptional staff, contributors and readers. My thanks to all, and may the coming decades be just as bright.
Charlotte Smith editor
Email our new editor, Emma Baker, at thestrad@thestrad.com or tweet @TheStradMag