The Strad's editor Charlotte Smith introduces the December 2020 issue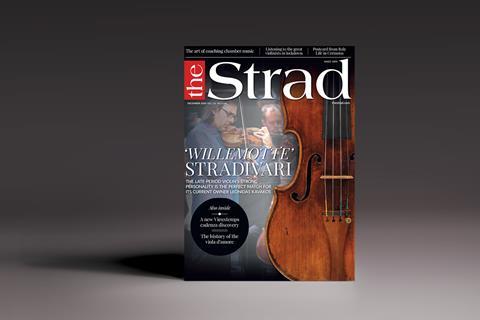 It's no secret that Antonio Stradivari lived to a great age. But this biographical detail takes on new meaning when confronted with a still-vibrant instrument made in the master's 90th year. The 1734 'Willemotte' – the subject of this month's poster for subscribers – is hardly a violin that speaks of waning strength and energy. Rather, its 'muscular ruggedness', along with its deep and multidimensional tone – described by current owner Leonidas Kavakos as 'perfumed' and 'spiritual' – is evidence that the legendary maker was still at the peak of his powers in later life. On page 24 Sam Zygmuntowicz examines the violin in detail, comparing it to other works by Stradivari and Guarneri 'del Gesù'. The 'Willemotte' is, he concludes, a fitting subject for our times – the product of a life lived through famine, plague and war, against which tenacity and tradition held firm.
Beethoven's struggles with comparable hardship have been much explored during his 250th anniversary year. Less celebrated in 2020 has been the 200th birthday of Belgian violinist Henry Vieuxtemps who, as a 14-year-old prodigy, performed Beethoven's Violin Concerto in March 1834 to great critical fanfare. It has long been known that Vieuxtemps composed a cadenza to the work, published in 1854. But the recent discovery of an earlier version in the Vienna headquarters of Doblinger Musikverlag sheds new light on the violinist's critical process. On page 32 Martin Wulfhorst traces the links between several different cadenza iterations as they are published for the first time.
As we enter the final month of this difficult year, and Europe finds itself in the grip of Covid-19's second wave, we recognise the concert and festival promoters who have managed to stage live performances despite the odds. One such showcase was Cremona Musica's Special Edition, run at the end of September in place of the annual Mondomusica trade fair. Although necessarily a smaller and more local venture than usual, this inventive mixture of live performances, exhibitions, talks and digital platforms could not have been more uplifting – read my experience on page 22.
Charlotte Smith editor
Email me at thestrad@thestrad.com or tweet @TheStradMag
This article was published in the December 2020 'Willemotte' Stradivari issue

The late-period violin's strong personality is the perfect match for its current owner Leonidas Kavakos. Explore all the articles in this issue. Explore all the articles in this issue

More from this issue…