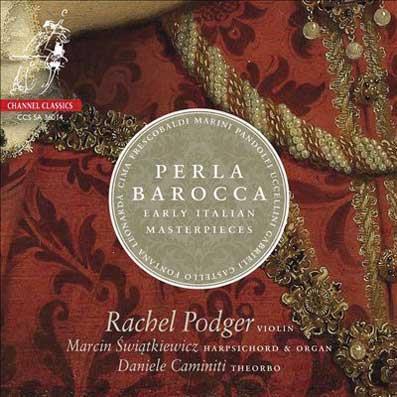 The Strad Issue: November 2014
Description: Violin playing both elegant and virtuosic from a specialist in Baroque repertoire
Musicians: Rachel Podger (Baroque violin) Marcin ŠšwiÄ…tkiewicz (harpsichord/organ) Daniele Caminiti (theorbo/guitar)
Composer: Fontana, Frescobaldi, Uccellini, Castello
Catalogue Number: CHANNEL CLASSICS CCS SA 36014 (hybrid SACD)
Rachel Podger performs this 17th-century Italian programme in the 'stylus phantasticus' idiom with striking bravura and imagination, receiving alert support from Marcin ŠšwiÄ…tkiewicz and Daniele Caminiti. She negotiates with ease the various changes of tempo and mood and the passages of virtuoso ornamentation in Fontana's Sonata Seconda, Castello's Sonata Seconda, Uccellini's Sonata overo Toccata quinta and Pandolfi Mealli's Sonata op.4 no.6, and she manoeuvres her way through all the diminutions and ornamental scale passages in Marini's Sonata quarto per sonar con due corde with careful concern for shape and effect. She uses vibrato surprisingly generously in the slow sections, but articulates the fast passages with clarity and precision, bringing much vitality and refined musicianship to these accounts, captured in a clear and resonant recording.
Among the lesser-known 'Baroque pearls' are Isabella Leonarda's Sonata op.16 no.12, the first and fifth of its seven sections receiving some impressive improvised embellishment, and Frescobaldi's Toccata per spinettina e violino, in which there is much enjoyable interaction between Podger and ŠšwiÄ…tkiewicz. The trio's dramatic, extrovert reading of Bertali's Chiacona provides an exhilarating conclusion. Podger's fantastical divisions unfold brilliantly above the recurring bass, and texture and atmosphere are eventually pepped up with flamenco-style lute playing and percussive effects.
ROBIN STOWELL