Colourful evocations bring an Italian early Baroque composer to life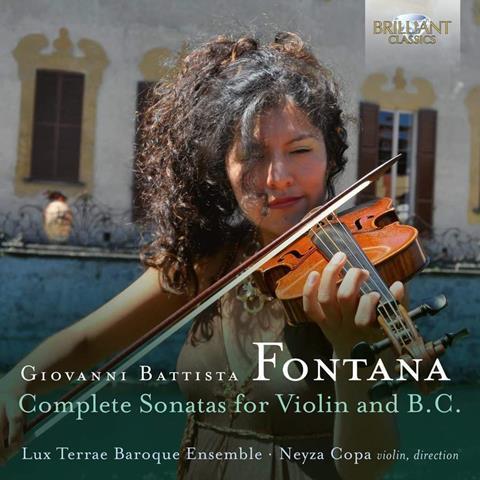 The Strad Issue: July 2023
Description: Colourful evocations bring an Italian early Baroque composer to life
Musicians: Lux Terrae Baroque Ensemble/Neyza Copa (violin)
Works: Fontana: Complete Sonatas for violin and continuo
Catalogue number: BRILLIANT CLASSICS 96541 (2 CDs)
Giovanni Fontana's Sonate a 1.2.3. per il violino, o cornetto, fagotto, chitarone, violoncino o simile altro istromento, published posthumously in 1641, comprises 18 innovative miniatures for between one and three solo instruments and continuo. These players fully exploit the freedom of instrumental choice indicated on Fontana's title page, offering a veritable kaleidoscope of instrumental timbres, particularly in no.15.
Neyza Copa performs the first six sonatas as works for violin and continuo, varying the instrumentation appropriately. She and fellow violinist Giovanni Rota interact well in nos.8 and 11 and they are joined by cellist Lamberto Curtoni in a prominent basso role in nos.13, 14 and 17. Serena Leonardi's Renaissance soprano flute offers pleasing contrast of tessitura and colour as canto secondo in nos.7, 15 and 18 (with Estelle Thévenoz's eccentric bass dulcian in nos.15 and 18) and gambist Issei Watanabe excels in that role in nos.9, 10 and 12. Neyen Finot joins Copa and Rota as a third violin soloist in no.16.
The performers negotiate their way through these sonatas' various contrasting rhythmical sections with flexibility and an easy bravura, demonstrating a sure understanding of their sectional structure and the tempo relationships between their constituent segments. Embellishing discreetly, they adeptly convey the elements of surprise, contrast, fantasy, virtuosity, rhetoric and dance that characterise Fontana's style. The continuo support throughout is imaginative, yet unobtrusive, and the recordings are warmly resonant; that the two discs were recorded a year apart and in two different churches is scarcely detectable. Regrettably, the English translation of the accompanying booklet notes leaves much to be desired.
ROBIN STOWELL