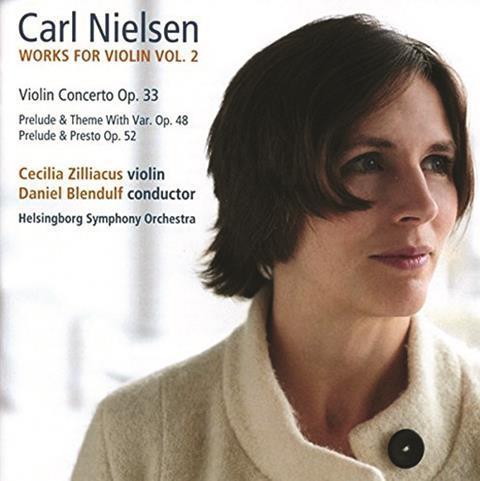 THE STRAD RECOMMENDS
The Strad Issue: March 2016
Description: Ideal playing in Nielsen's Concerto and unaccompanied works
Musicians: Cecilia Zilliacus (violin) Helsingborg Symphony Orchestra/Daniel Blendulf
Composer: Nielsen
One shouldn't prejudge a recording, but as soon as I spotted the word 'ugly' in the self-penned essay Cecilia Zilliacus has appended to this disc, I suspected she might avoid the pitfalls most violinists fall into when playing Nielsen. And I was right. Her recording of the Violin Concerto is certainly the finest to have come my way since Vilde Frang's in 2012 (Warner Classics). I'm tempted to suggest it betters even hers.
Zilliacus constantly puts me in mind of those famous photographic portraits of Nielsen pulling faces. Abruptness and rawness are vital tools for her. She digs into repeated notes, and sounds impetuous when she reprises the Allegro's big tune over the pizzicato ensemble. Her cadenzas are earthy but vulnerable and her slow movement has a delicious purity, as if it's gazing over the Øresund sound. The orchestra constantly chases Zilliacus down; her fight with it midway through the Allegretto has bags of attitude. You wouldn't catch Nikolaj Znaider baring his teeth like that. But at the same time her technique is impeccable and her fortitude doesn't preclude delicious lyricism.
All the same qualities shine through the unaccompanied works, and more: elfin harmonics, rude interruptions, frenzying here, loneliness there – well captured in clear sound. Is there a violin soloist more closely attuned to Nielsen's idiom right now?
Andrew Mellor