An impressive attempt to get to the heart of this Dane's radical music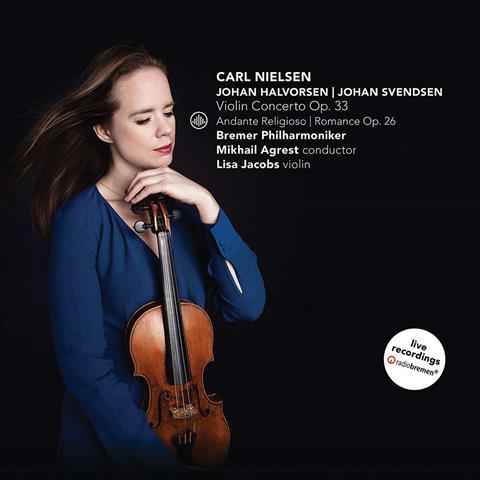 The Strad Issue: August 2019
Description: An impressive attempt to get to the heart of this Dane's radical music
Musicians: Lisa Jacobs (violin) Bremer Philharmonic/Mikhail Agrest
Works: NIELSEN Violin Concerto HALVORSEN Andante religioso SVENDSEN Romance in G major op.26
Catalogue Number: Challenge Classics CC72799
Capturing the impish cheek and driven fortitude of Nielsen's Violin Concerto is tricky even if you've got the work's fiendish technical demands sorted. Lisa Jacobs puts in an impressive performance on both counts.
She is more concerned with character than perfection, which is the approach this score needs. The Dutch violinist has a gorgeous sound, particularly high up on her 1683 Rugeri. That proves wondrous in the dreaming whimsy that characterises Part I but Jacobs is not short of gritty argument in the cadenzas either.
Where this account is outmanoeuvred by the very best – Vilde Frang, Nikolaj Szeps-Znaider (in 2001), Cecilia Zilliacus – is in its slight want of Dennis-the-Menace cheek and persistent fighting spirit.
It's possible to do something special with all those niggling repeated notes in the solo part (as Frang does), and in the last four minutes of Part I the confrontation with the orchestra never really lifts off.
Ultimately, the games of Part II are missing the last ounce of charisma (in sympathy with Jacobs, the orchestra is a slouch, which may have been the cause). Radio Bremen's sound, deep and resonant, doesn't always do Jacobs favours against the orchestral tutti.
Still, it's a sign of Jacobs' intelligence that she gets so close, and can deliver such a noble performance of the two differently focused works by Svendsen and Halvorsen that follow. Both show, in their Romantic conservatism, what a radical Nielsen was.

I hope Jacobs keeps playing his music and would be interested to hear her in the sonatas.
ANDREW MELLOR