Young musician competition has announced winners for two of three age groups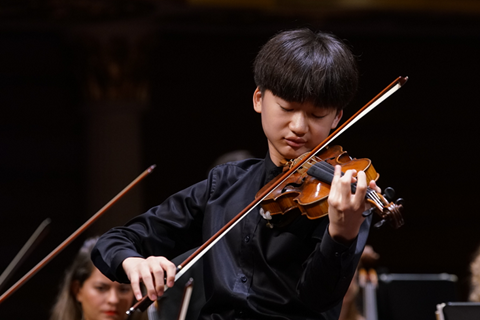 The second Zhuhai International Mozart Competition for Young Musicians, co-hosted by the Zhuhai International Culture Association and the Mozarteum University, Salzburg, has announced the winners for its two younger age-group categories
The Category A final, for violinists aged 12 or under, taking place on 19 September, was won by Wang Shihan (China) playing Mozart's Violin Concerto no.3, with Clara Shen (Germany) taking second prize and Chloe Chua (Singapore) third. The cash prizes are $7,500, $4,000 and $2,500 respectively.
The Category B final for ages 13 to 16, which took place on 21 September, was won by the Spanish violinist María Dueñas Fernández, playing Mozart's Violin Concerto no.4 and the first movement of Paganini's: Violin Concerto no.1. Second prize went to Miyu Kitsuwa (Japan) and third to Luo Chaowen (China). The prizes are $15,000, $8,000 and $5,000.
The Group C final, for ages 17 to 23, will take place on 23 September, between Liu Yiming (China), Jiang Yiying (China) and Oleksandr Korniev (Ukraine), with a top prize of $30,000.
All finals are accompanied by the Salzburg Chamber Soloists.
The competition jury includes Paul Roczek (artistic director) and Friedemann Eichhorn (chair), plus violinist Shmuel Ashkenasi, Ani Schnarch, Akiko Tatsumi, Tong Weidong, Yu Lina and critic Harald Eggebrecht.