The twelve musicians will receive support including artist management and performing opportunities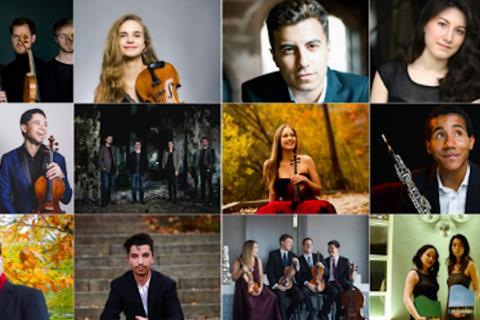 The Young Classical Artists Trust (YCAT) has announced the addition of twelve musicians to its roster of young artists.
Seven of the musicians were selected through an audition process from 150 applicants: the Adelphi Quartet (string quartet), Quatuor Agate (string quartet), Armand Djikoloum (oboe), Irène Duval (violin), Ariel Lanyi (piano), Charlotte Saluste-Bridoux (violin), Iyad Sughayer (piano).
In addition, YCAT will represent five shared artists with Concert Artists Guild in the USA, following the announcement of their partnership in 2019: Jordan Bak (viola), Balourdet String Quartet (string quartet), Chromic Duo (toy piano electronic duo), Geneva Lewis (violin), Gabriel Martins (cello).
All twelve will receive support, including an artist management team, extensive performing opportunities both nationally and internationally, debuts at various venues, professional publicity materials and digital support.
Read New partnership between Music Masters and YCAT gets underway with a new series
Read YCat finalists to receive career support packages

Alasdair Tait (Chief Executive and Artistic Director) says: 'The level of applicants applying for YCAT continues to be astoundingly high. However, I am delighted that the final jury was unanimous in identifying artists of exceptional talent with great potential and personality whom they believe would benefit greatly from YCAT's support. With the catastrophic disappearance of live performance last year, the overwhelming sense of need for support and advice for these young musicians has never felt more urgent.'