Two cellists scooped the top prizes at the final on 12 February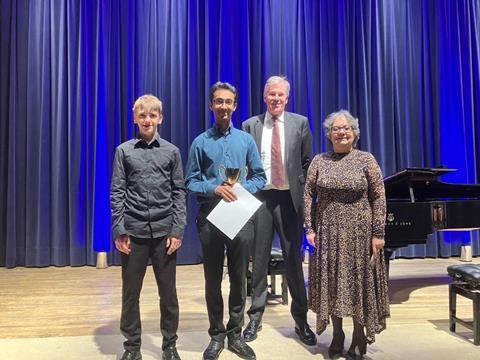 Read more news articles here
The final of the Haslemere International String Competition was held on Sunday 12 February 2023. Selected from an online first round, the finale showcased nine string players who each performed a mixed recital programme of 30 minutes.
The cellist Danushka Edirisinghe took first prize, following his performance of works by Dani Howard, Nadia Boulanger, Frank Bridge and Karl Davydov. He won £1500, plus a future concerto appearance with the London Mozart Players in May 2023 as part of the Haslemere Festival.
Edirisinghe is currently in his third year of undergraduate studies at London's Royal Academy of Music (RAM), under the tutelage of Hannah Roberts. As an alum of Junior RAM, he won both the Intermediate and Senior Cello Prizes as well as the Concerto Competition Prize in his final year. Other prizes he has received include the Greygnog Young String Player of the Year as well as the Leicestershire Lord Lieutenant's Young Artist of the Year. In 2019 he gained a place in the National Youth Orchestra (NYO) of Great Britain before becoming its principal cellist in 2020 and 2021.
At RAM, he has won the May Mukle/Douglas Cameron Cello Prize and the String and Piano Duo Prize with pianist Xiaowen Shang. He has freelanced with orchestras such as Britten Sinfonia, Sinfonia of London, City of London Sinfonia and Chineke! Orchestra, and has recently been accepted into the London Symphony Orchestra String Experience Scheme. He plays on a1690 Rogeri cello loaned to him from the Royal Academy of Music Instrument Collection.
Second prize of £500 went to 14-year-old cellist Hugo Svedberg. He has won the Bromsgrove Young Musicians Platform, the Two Moors Festival Competition, the Sandrey Date Memorial Prize, the Rotary Competition of Dorset,the London Young Musician Competition and the Bournemouth Symphony Award for the Young Musician of the Year.
The jury comprised Jo Cole, Nicole Wilson and Jonathan Hennessey-Brown.
The Haslemere International String Competition was formed in 2017 by violinist Ishani Bhoola to provide young string musicians with an opportunity to receive significant solo concert exposure. Its original mainly intended audience of students in the counties surrounding London has since substantially increased, and during the pandemic the competition went international and online.
Watch the final round performances here, filmed by Apple and Biscuit Recordings: