The long-standing former concertmaster of the New York Philharmonic aims to continue to teaching legacy of Heifetz in his new role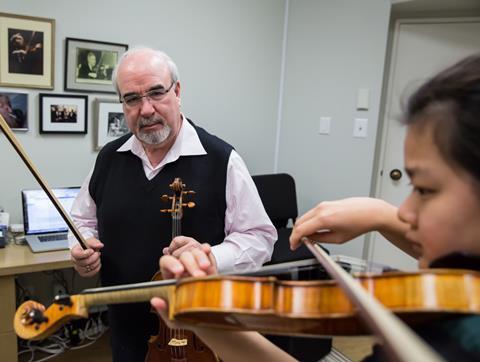 The University of Southern California Thornton School of Music has named violinist Glenn Dicterow the Jascha Heifetz Chair in Violin and opera singer and longtime Thornton faculty member Elizabeth Hynes the Stephen H. Crocker Professorship in Music.
Dicterow currently serves on the faculty of USC Thornton and was named the Robert Mann Chair in Strings and Chamber Music in 2013. He gives up this seat to take up the Jascha Heifetz chair, established in 1974 to honour the legendary violinist.
A graduate of the Juilliard School who was mentored by Ivan Galamian, Dicterow also had the opportunity to study with Heifetz, who was a faculty member at USC for over 20 years. Heifetz has been a lifelong inspiration for his music making.
'Since I was a young violinist, I have been heavily influenced by the artistry of Jascha Heifetz,' Dicterow said. 'It had always been my dream to someday return to USC to teach, where, as a young teenager, I had the privilege of studying with this iconic genius.
'I have spent my entire life espousing Heifetz's unique musical interpretations, as well as his dazzling technique. As testified by my numerous students over the years, I have always championed Heifetz's recordings, which continue to inspire us. He brought such unique style, imagination and colour to the vast repertoire he performed.
'My aim is to carry on the message of Jascha Heifetz to a new generation of musicians who may not be as familiar with his truly remarkable, one-of-a-kind music making.'
Dicterow debuted as a soloist with the Los Angeles Philharmonic at age 11 and as a soloist with the New York Philharmonic at 18. In 1971, he was hired as associate concertmaster of the LA Phil, where his father was principal second violinist, becoming concertmaster three years later. In 1980, he was named concertmaster of the New York Philharmonic.
Holding the position for a record 34 years, he performed with four music directors, Zubin Mehta, Kurt Masur, Lorin Maazel and Alan Gilbert, amassing countless orchestral and solo performances, as well as numerous recordings and soloist credits on film soundtracks.
An accomplished pedagogue, Dicterow has taught at Juilliard and given master classes around the world. He has chaired the orchestral performance programme at the Manhattan School of Music for two decades, and helms the strings leadership programme as a faculty artist at the Music Academy of the West in Santa Barbara.