Formed at Indiana University, the ensemble is the winner of the 2020 Cleveland Quartet Award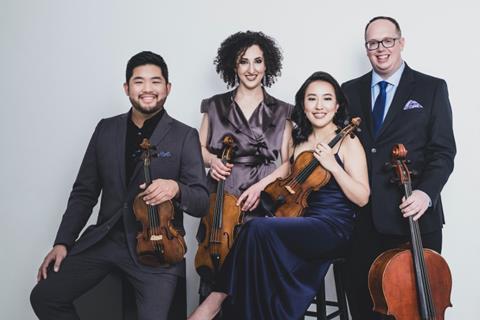 The Verona Quartet, winner of Chamber Music America's 2020 Cleveland Quartet Award, will serve as quartet in residence at Oberlin Conservatory for the 2020-21 academic year.
The ensemble will give secondary lessons and chamber music coaching to students from the College of Arts and Sciences, and will also collaborate with the Oberlin Arts and Sciences Orchestra, formed of college musicians and members of the community. The quartet will in addition perform a series of concerts at Oberlin Conservatory throughout the upcoming season.
Formed at Indiana University, the quartet — Jonathan Ong and Dorothy Ro (violins), Abigail Rojansky (viola) and Jonathan Dormand (cello) — is currently resident at Indiana University Summer String Academy, North Carolina's Chamber Orchestra of the Triangle, and the Lunenburg Academy of Music Performance. Former fellowships include the Juilliard School, New England Conservatory, and Indiana University's Jacobs School of Music.
Read: Verona Quartet receive 2020 Cleveland Quartet Award
Watch: Verona Quartet performs Janáček's String Quartet no.2 'Intimate Letters' I: Andante
The group has previously won prizes at the Wigmore Hall, Melbourne, Osaka, and M-Prize competitions, and received the 2015 Concert Artists Guild Competition. As recipients of the Cleveland Award they receive performance opportunites over a two-year period at venues and institutions including the Buffalo Chamber Music Society, Carnegie Hall, Chamber Music Society of Detroit, and the University of Texas at Austin.
The new Oberlin residency is particularly meaningful for Rojansky, a 2011 Oberlin Conservatory graduate. 'I have always been so thankful for the ways Oberlin opens students up to opportunities and encourages you to pursue your passions,' she said. 'I left Oberlin with the sense that I could do whatever I wanted to. There were no limitations, and this quartet grew out of that same sensibility.'